# 034
Sunday, May 5, 2019





Taganga, Santa Marta, Colombia
11°16'081" N, 074°11'541" W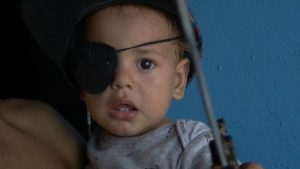 Moretti
For almost two months we negotiated with the city of Barranquilla to find a mooring for a cultural exchange with local artists and with the public. The city is famous for it's carnival and for being situated at the mouth of Colombia's biggest river La Grande Magdalena. But the city is completely cut off the river by islands and industries. So they build the "Gran Malecón" (The Big Waterfront) to give the river back to it's inhabitants. The first and only visitor so far has been the Colombian navy's Flag Ship "Gloria", a three-masted barque that attracted thousands of visitors. We Fools would promote the place, as we have been for decades in countless harbors the first in giving an artistic dimension to traditional maritime functions. And the cultural authorities of the town loved the idea. So we finally got the permission to moor. Except, we hadn't the right to live aboard as we did not have the right to shit in the Grande Magdalena as 32 million other Colombians do. Neither did we have the right, after a sanitary inspection, to receive the public on board, our conditions apparently not matching that of 40 million others. Good bye Barranquilla! Good bye Taganka! For two months we had a jolly company of artists aboard from many countries that presented a very charming theater play in the ship's hold: "Bitácora De Un Loco-Nauta" (The Log Of A Foolish Sailor). The people of Taganga still claims for more!
But he ship heads for the ship yard in Cartagena. The last hitch before crossing the Panama Canal. The captain took to writing his log book that encompasses thirty years of sailing. He invited some of these sailors of thirty years to be a guest writer. One of them is Moretti, with 13 years the most loyal crew member. His testimony is quite revealing.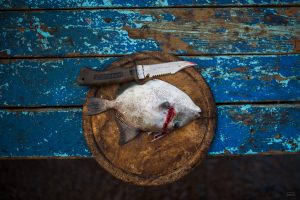 Moretti (Azart Log Book, Chapter 27)
My mom was half wild and my home hidden under an old house. But that doesn't justify me and my brother were kidnapped to a bizarre old ship before we even could open our eyes. I haven't even seen the beauty of my birth place, the island Pantellería, home of such illustrious semi-gods as Circe or Armani! Instead of my mothers care there was this huge and strange man called Robbie that fed us with a syringe. But gradually we started to like the place we grew up because it was full of chests, cupboards, closets and hidden corners to climb and clamber and jump. In the beginning, I even liked the sailing because the whole house went up and down and all the kitchen utensils jolly swinging to and fro. The place actually was the home of a bunch of fools whose favorite, professional, drink was alcohol and who had the bad taste to call me "Moretti" after Pantellería's most popular beer mark. That's the only sad recording I have of the my birth place. I even heard that my predecessors had names of "Whiskey" or "Vodka". But I never told them that "Moretti" happened to be the name of a most famous dynasty of Italian Commedia dell'Arte players, so I secretly bear my name with dignity. Anyhow, I became a great actor myself by niche myself on stage among the protagonists during their shows. Before already, I used to supervise their wild parties by nestling on the bar.
Life was very gaily. We hopped from island to island and my favorite past time was settling down near the fishermen on the quay who eventually had no other option than to feed me fresh fish. A real paradise was this small Greek town of Meganissi where the sardines, probably chased by a predator, spontaneously jumped on the quay side by the hundreds. But to all paradises comes an end. These fools had the bad taste to trust us to a group of German volunteers who took care of street animals. Me and my brother, street animals! That happened, of all places, on the very venerable Greek island of Lefkada, where a desperate poetess Sappho lost he​r ​life by jumping from the cliffs and where an equally desperate Cleopatra lost her sea battle and empire. Well, we lost our balls. These volunteers had the self invented mission to castrate all stray animals they could lay there hands on. And, maybe worse, to cut the top of our left ear so as to mark shamelessly our shame!
And life never was the same anymore. My brother, who already had the habit to take a nap on neighboring ships, sailed sleepy away without saying good-bye. That was on a tiny Greek island with barely two hundred inhabitants. Later, we heard he returned there and was happily adopted by an old lady. Not for me, though. I started disliking the long trips at sea for all these wet waves on deck, for this unbearable noise from the motor room, for not having a decent place to shit. At least there's a garden on the stern with some earth and plants that I freely could destroy. So, as soon as the motor started I try to escape and actually managed several times to seriously delay the whole expedition. Now, during sailing, I hide in a deep corner of the ship's labyrinth, just like the Russian sailor Wolodja, who's eternally seasick. I would have loved to join him if his cabin wasn't shared with the klabum of the motor. That's anyhow my role on board and they hardly realize it. I'm the ship's psychotherapist that knows exactly who needs some care and comfort. Every night I find myself another favorite, or maybe two, and their favorite place is straight on their crotches. I very much prefer woman because they're sweeter and softer and only in these fastidious cold Northern countr​ies​ the skinny captain will do, if no one else is available. That is, he calls himself the captain because he hardly knows it's me the Prince on board. The place is mine! I'm the boss who's supervising everything from the middle of the table with some twelve disciples sitting around. Let them entertain their illusions! Some years ago, they had the bad taste to bring a young kitten on board from a farm in the Basque mountains. She really was a beauty but who the heck told them I need companionship? This kingdom is mine! So with a single slap I discretely disposed of her. They found her that same afternoon floating in the harbor. Then they brought her sister who vanished without a trace. I'm an artist, commedia dell'arte! Actually, I myself once slipped accidently into the same spot in the harbor but I got out of it by climbing the concrete poles at the cost of my nails. What else could have happened if a cat returns aboard completely soaked and with blunt nails?
Another trick they played on me was when we arrived from Mediterranean France to this small Basque fishermen's village. After countless days at sea I had my right on an evening stroll, right? They all went straight to the opera! But nobody had the decency to tell me that in those silly seas there's something like a tide of five meter difference, so when I came back there was no ship anymore, or at least I thought so. I got planted. I stayed away for ten whole days and won't tell anybody where I was or what has happened. Now they say they sung my name over the whole village in the four shows they gave upon arrival. Really? I'm perfectly capable to hear my own name if they speak to me, especially if food is involved, but here I came back on my own, but badly wounded. My doctor told me my left jaw was broken and that mending it was 800 euro's. But these parsimonious fools didn't want to spend anything on me, well, they didn't have any. Now, sometimes, my tongue involuntarily sticks out when I'm quietly engaged in reveries and then they start giggling because they think it's funny. But it's quite obvious that it's me who sticks out my tongue to them, isn't it? My sweet revenge is that I force them to cut my food in very tiny pieces which is a cumbersome job with their blunt knifes, the more so with the fresh fish I start fancying. As well, my voice got badly hurt but this is amply compensated by using my claws that proved to be most efficient.
Lately, they came up with another trick. They made me a facebook page! Pfu! This is the pinnacle of disrespect for an ancient race as ours and the ultimate proof of their foolishness. Their latest inanity is, they hardly go ashore anymore. They know very well that I love sailing only when the ship stays at the quay side where I can find some grass and sand and birds to play with. I suspect this is not very different from the fools themselves as they usually find there whole bunches of fresh fools. But ​now they stay at anchor and confine me to my kingdom. Well, at my age, I don't care too much. I know to find my shady places in the fresh afternoon breeze. At least, they stop feeding me this miserable cat food, and that's only because it seems the​re're hardly ​shops left where you ​can buy it. And when you can find it, it's as expensive as real ham. So now they buy the real thing and have the nerve to steal part of it. But, most important, they finally are learning to fish themselves. There's plenty around and they even mounted an outboard barbecue to fry these delicacies. I prefer them fried! If they're sluggish or lazy I perfectly know to remind them of their duties with a bloody dash of my nails at their paws. Most conveniently, they've them bare in this climate! Here, I'm as vigorous as in my best days! My favorite hit is the so-called captain. If he wants his responsibilities, let him feel them! I want my fried little fish to muse about those days.
Moretti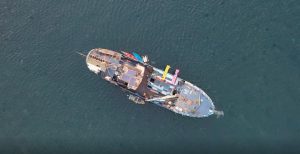 Durante casi dos meses negociamos con la ciudad de Barranquilla para encontrar un amarre para un intercambio cultural con artistas locales y con el público. La ciudad es famosa por su carnaval y por estar situada en la desembocadura del río más grande de Colombia, La Grande Magdalena. Pero la ciudad está completamente separada del río por islas e industrias. Así que han construido el "Gran Malecón" para devolver el río a sus habitantes. El primer y único visitante hasta ahora ha sido el buque insignia "Gloria" de la Armada Colombiana, una bricbarca con tres mastiles que atrajo a miles de visitantes. Nosotros ibamos a promover el lugar, como hemos sido durante décadas en innumerables puertos el pionero en dar una dimensión artística a las funciones marítimas tradicionales. Y a las autoridades culturales de la ciudad les encantó la idea. Así que finalmente obtuvimos el permiso para amarrar. Excepto, no teníamos derecho a vivir a bordo, ya que no teníamos el derecho de cagar en la Gran Magdalena, como lo hacen otros 32 millones de colombianos. Tampoco teníamos el derecho, después de una inspección sanitaria, de recibir al público a bordo, nuestras condiciones aparentemente no coinciden con las de otros 40 millones. Entonces, ¡Adiós Barranquilla! ¡Adiós, Taganka! Durante dos meses tuvimos a bordo una alegre compañía de artistas de muchos países que presentaron en la bodega del barco una obra teatral muy encantadora: "Bitácora De Un Loco-Nauta" La gente de Taganga todavía reclama más.
Pero el barco se dirige hacia el astillero de Cartagena. El último enganche antes de cruzar el canal de Panamá. El capitán está escribiendo su cuaderno de bitácora que abarca treinte años de navegación. Invitó a algunos de estos marineros de los treinte años para escribir un capítulo. Uno de ellos es Moretti, con sus 13 años el tripulante más leal. Su testimonio es bastante revelador.
Moretti (Azart Bitácora, Capítulo 27)
Mi madre estaba medio salvaje y mi hogar escondido debajo de una casa vieja. Pero eso no justifica que mi hermano y yo fuimos secuestrado a un extraño barco antes de que pudiéramos abrir los ojos. Ni siquiera he visto la belleza de mi lugar de nacimiento, la isla Pantellería, hogar de semidioses tan ilustres como Circe o Armani. En lugar del cuidado de mi madre, había un hombre enorme y extraño llamado Robbie que nos alimentó con una jeringa. Pero poco a poco el lugar donde crecimos empezó a gustarnos porque estaba lleno de armarios y esquinas ocultas para escalar, trepar y saltar. Al principio, incluso me gustaba navegar porque toda la casa sube y baja y todos los utensilios de cocina se balancean ruidoso de un lado a otro. El lugar es en realidad el hogar de un grupo de locos cuya bebida favorita, profesionalemente, es el alcohol. Ellos tenían el mal gusto de llamarme "Moretti", después de la marca de cerveza más popular de Pantellería. Esa es el único recuerdo, y bastante triste, que tengo de mi lugar de nacimiento. Incluso me enteré que mis predecesores tenían nombres como "Whisky" o "Vodka". Pero nunca les dije que "Moretti" también es el nombre de la dinastía italiana más famosa de artistas de Commedia dell'Arte, así que secretamente llevo mi nombre con dignidad. De todos modos, yo mismo me convertí en un gran actor por ocupar entre los protagonistas el escenario durante sus espectáculos. Antes ya, solía supervisar sus fiestas salvajes desde el bar donde vendian su alcohol.
La vida era muy alegre. Saltamos de isla en isla y mi pasatiempo favorito era ponerme cerca de los pescadores en el muelle, que finalmente no tenían otra opción que alimentarme de pescado fresco. Un verdadero paraíso fue esta pequeña ciudad griega de Meganissi, donde centenares de sardinas, probablemente perseguidas por un depredador, saltaron al muelle. Pero a todos los paraísos llega un fin. Estos locos tuvieron el mal gusto de confiarnos a un grupo de voluntarios alemanes que cuidaban a animales callejeros. ¡Imaginelo, yo y mi hermano, animales callejeros! Eso sucedió en la muy venerable isla griega de Lefkada, donde una desesperada poetisa Safo perdió su vida saltando desde los acantilados y donde una Cleopatra, igualmente desesperada, perdió su batalla naval y su imperio. Bueno, nosotros perdimos nuestros cojónes. Estos voluntarios tenían la misión inventada de castrar a todos los animales callejeros que pudieran encontrar. Y, tal vez peor, ¡cortar la parte superior de nuestra oreja izquierda para marcar sin vergüenza nuestra vergüenza!
Y la vida nunca volvió a ser la misma. Mi hermano, que ya tenía el hábito de tomar una siesta en barcos vecinos, zarpó dormiendo, sin decir adiós. Eso fue en una pequeña isla griega con apenas doscientos habitantes. Más tarde, me enteró que había regresado allí y que fue felizmente adoptado por una anciana. Aunque, este mismo destino no fue para mí. Comencé a disgustar los largos viajes en el mar por todas estas olas húmedas en la cubierta, por todo este insoportable ruido de la sala de máquinas, por no tener un lugar decente para cagar. Al menos hay un jardín en la popa con algunas tierras y plantas que pudo destruir libremente. Entonces, tan pronto como el motor arranca, trato de escapar y, en realidad, logré varias veces retrasar seriamente toda la expedición. Ahora, durante la navegación, me escondo en un rincón profundo del laberinto del barco, al igual que el navegante ruso Wolodja, que está eternamente mareado. Me hubiera encantado unirme a él si su cabina no fuera compartida con el klabum del motor. De todos modos, ese es mi papel a bordo y apenas se dan cuenta. Soy el psicoterapeuta del barco que sabe exactamente quién necesita cuidado. Cada noche me encuentro (con) otro favorito, o tal vez (con) dos, y su lugar favorito es directamente en sus entrepiernas. Prefiero mucho a las mujeres porque están más dulces y más suaves y solo en los países fríos del Norte me contento con el delgado capitán, si no hay nadie más disponible. Es decir, se llama a sí mismo el capitán porque apenas sabe que soy yo el Príncipe a bordo. ¡El lugar es mío! Soy el jefe que supervisa todo desde el centro de la mesa, con unos doce discípulos sentados alrededor. ¡Que entretengan sus ilusiones! Hace algunos años, tenían el mal gusto de traer a una gatita joven a bordo, proveniente de una granja en las montañas vascas. Ella realmente era una belleza, pero ¿quién diablos les dijo que necesitaba compañía? ¡Este reino es mío! Así que con una sola bofetada me dispuse discretamente de ella. La encontraron esa misma tarde flotando en el puerto. Luego trajeron a su hermana que desapareció sin dejar rastro. Soy un artista, della commedia dell'arte! De hecho, una vez caí accidentalmente en el mismo lugar del puerto, pero salí de él escalando los postes de concreto a costa de mis uñas.
Otro truco que jugaron conmigo fue cuando llegamos de la Francia mediterránea a este pequeño pueblo de pescadores vascos. Después de innumerables días en el mar tuve mi derecho en un paseo nocturno, ¿verdad? ¡Ellos mismos fueron todos directamente escuchando a la ópera! Pero nadie tuvo la decencia de decirme que en esos mares raros hay algo así como una marea de cinco metros de diferencia, así que cuando regresé ya no había ningún barco, o al menos pensé. ¡Me plantaron! Me mantuve alejado durante diez días enteros y no le diré a nadie dónde estaba ni qué sucedió. Ahora dicen que cantaron mi nombre en todo el pueblo en los cuatro espectáculos que dieron al llegar. De verdad? Soy perfectamente capaz de escuchar mi propio nombre si me hablan, especialmente si hay comida, pero aquí volví por mi cuenta propia , aunque mal herido. Mi médico me dijo que mi mandíbula izquierda estaba rota y que la reparación era de 800 euros. Pero estos locos parsimoniosos no querían gastar nada en mí, bueno, tal vez no tenían nada. Ahora, a veces, mi lengua sobresale involuntariamente cuando estoy tranquilamente involucrada en ensueños y luego ellos comienzan a reírse porque piensan que es gracioso. Pero es bastante obvio que soy yo quien les saca la lengua, ¿no es así? Mi dulce venganza es que los obligo a cortar mi comida en trozos muy pequeños, lo que es un trabajo incómodo con sus cuchillos romos, y más con el pescado fresco que ahora me gusta. Además, mi voz mi voz esta bastante dañada, pero esto yo compenso ampliamente con el uso de mis garras que son de las más eficientes.
Últimamente, se les ocurrió otro truco. ¡Me hicieron una página de facebook! ¡Pfu! Este es el pináculo de la falta de respeto para una antigua raza como la nuestra y la prueba de su estupidez. Y su última inanidad es que casi ya no van a tierra. Saben muy bien que me encanta navegar solo cuando el barco se queda al muelle donde puedo encontrar hierba, arena y pájaros para jugar. Sospecho que esto no es muy diferente de ellos mismos, ya que suelen encontrar allí montones de locos nuevos. Pero ahora permanecen anclados y me confinan a mi reino. Bueno, a mi edad, no me importa demasiado. Sé encontrar mis lugares sombreados en la brisa fresca de la tarde. Al menos, han dejado de alimentarme con esta miserable comida para gatos, y eso es solo porque parece que no hay tiendas donde se puede comprarla. Y cuando lo puedes encontrar, es tan caro como el jamón real. Así que ahora compran la cosa real pero tienen la impertencia de robar parte de ella. Lo más importante es que finalmente están aprendiendo a pescar ellos mismos. Hay un montón alrededor e incluso montaron una barbacoa fuerabordo para freír estas delicias. Los prefiero fritos! Si son lentos o perezosos, sé perfectamente recuerdarlos sus deberes con un sangriento golpe de uñas en sus patas. Muy convenientemente, los tienen desnudos en este clima. Aquí estoy tan vigorosa como en mis mejores días. Mi golpe favorito es el llamado capitán. ¡Si él quiere sus responsabilidades, déjalo sentirlas! Yo quiero mi pececitos fritos para meditar sobre esos días.
Moretti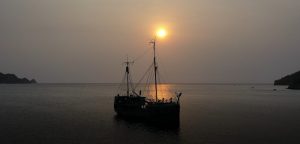 Pendant près de deux mois, nous avons mené des négociations avec la ville de Barranquilla afin de trouver un quai pour un échange culturel avec des artistes locaux et avec le public. La ville est célèbre pour son carnaval et pour son emplacement à l'embouchure du plus grand fleuve de Colombie, La Grande Magdalena. Mais la ville est complètement coupée du fleuve par les îles et les industries. Alors ils ont construit le "Gran Malecón" (Le Grand Rive) pour rendre la rivière à ses habitants. Le premier et le seul visiteur à ce jour a été le navire-drapeau "Gloria" de la marine Colombienne, une barque à trois mâts qui a attiré des milliers de visiteurs. Nous, les fous, avons proposé de promouvoir cet endroit, comme nous sommes depuis des décennies dans d'innombrables ports les premiers à donner une dimension artistique aux fonctions maritimes traditionnelles. Ça pourrait être la bombe. Et les autorités culturelles de la ville ont adoré cette idée. Donc, nous avons finalement obtenu la permission d'amarrer. Sauf que nous n'avions pas le droit de vivre à bord, pour ne pas avoir le droit de chier à la Grande-Madeleine comme le font 32 millions d'autres Colombiens. Aussi, après une inspection sanitaire, nous n'avions pas non plus le droit de recevoir le public à bord, nos conditions de vie ne correspondant apparemment pas à celles de 40 millions d'autres Colombiens. Alors, au revoir Barranquilla! Au revoir Taganka! Pendant deux mois, nous avons eu à bord une joyeuse compagnie d'artistes de nombreux pays qui ont présenté une pièce de théâtre très charmante dans la cale du navire: "Bitácora De Un Loco-Nauta" (Journal Du Bord d'Un Marin-Fou). Les habitants de Taganga réclament plus!
Le navire se dirige vers le chantier naval de Carthagène. Entretemps, le capitaine est occupé à écrire son journal de bord qui comprend trente ans de navigation. Il a invité certains de ses marins de trente ans à en écrire un chapitre. L'un d'eux est Moretti, avec ses 13 ans le plus fidèle de l'équipage. Son témoignage est assez révélateur.
Moretti (Azart Livre du bord, Chapitre 27)
Ma mère était à moitié sauvage et ma demeure était cachée sous une vieille maison. Mais cela ne justifie pas que mon frère et moi ayons été kidnappés dans un bateau bizarre avant même que nous puissions ouvrir les yeux. Je n'ai même pas vu la beauté de mon lieu de naissance, l'île de Pantellería, patrie d'illustres demi-dieux comme Circé ou Armani! À la place des soins de ma mère, il y avait cet homme énorme et étrange appelé Robbie qui nous nourrissait avec une seringue. Mais petit à petit, nous avons commencé à aimer ce lieu dans lequel nous avons grandi, car il était rempli d'armoires, de placards et de coins cachés pour grimper et sauter. Au début, j'aimais la voile parce que toute la maison allait de haut en bas et que tous les ustensiles de cuisine se balançaient joyeusement. L'endroit était en fait la maison d'un groupe de fous dont la boisson préférée et professionelle était l'alcool et qui avait le mauvais goût de m'appeler "Moretti" après la marque de bière la plus populaire de Pantellería. C'est le seul souvenir triste que j'ai de mon lieu de naissance. J'ai même entendu dire que mes prédécesseurs portaient des noms de "whisky" ou "vodka". Mais je ne leur ai jamais dit que "Moretti" était aussi le nom d'une des plus célèbres dynasties italiennes d'acteurs della Commedia dell'Arte. Je porte donc en secret mon nom avec dignité. Quoi qu'il en soit, je suis devenu un grand acteur moi-même en m'installant sur scène parmi les protagonistes lors de leurs spectacles. Auparavant, je surveillais leurs soirées sauvages assis au bar où ils vendaient leur alcool.
La vie était très gaie. Nous sautions d'île en île et mon passe-temps favori était de m'installer près des pêcheurs du quai qui n'avaient finalement pas d'autre choix que de me nourrir de poisson frais. Un vrai paradis était cette petite ville grecque de Meganissi où les sardines, probablement chassées par un prédateur, ont spontanément sauté au quai par centaines. Mais tous les paradis ont une fin. Ces fous avaient le mauvais goût de nous confier à un groupe de volontaires allemands qui s'occupaient des animaux errants. Imaginez-vous, moi et mon frère, des animaux de la rue! Ça était dans la très vénérable île grecque de Lefkada, où la poétesse désespérée Sappho a perdu la vie en sautant des falaises et où une Cléopâtre tout aussi désespérée a perdu sa bataille navale et son empire. Eh bien, nous avons perdu nos couilles. Ces volontaires avaient la mission inventée de castrer tous les animaux errants sur lesquels ils pouvaient s'emparer. Et, peut-être pire, couper le haut de notre oreille gauche pour marquer honteusement notre honte!
Et la vie n'a plus jamais été pareille. Mon frère, qui avait déjà l'habitude de faire la sieste sur les navires voisins, a navigué endormi sans dire au revoir. C'était sur une petite île grecque d'à peine deux cents habitants. Plus tard, nous avons entendu qu'il était rentré là-bas et avait été adopté avec bonheur par une vieille dame. Pas pour moi, cependant. J'ai commencé à déstester ces longs voyages en mer pour toutes ces vagues mouillées sur le pont, pour tout ce bruit insupportable de la salle des machines, pour ne pas avoir un endroit décent pour chier. Au moins, il y a un jardin à la poupe du navire, avec des plantes et de la terre que je peux détruire librement. Donc, dès que le moteur démarre, j'essaie de m'échapper et j'ai réussi plusieurs fois à retarder sérieusement toute l'expédition. Maintenant, pendant la navigation, je me cache dans un coin profond du labyrinthe du navire, tout comme le marin russe Wolodja, qui a toujours le mal de mer. J'aurais bien aimé le rejoindre si sa cabine n'était pas partagée avec le klabum du moteur. De toute façon, c'est mon rôle à bord et ils ne le réalisent presque pas. Je suis le psychothérapeute du bateau qui sait exactement qui a besoin de soins et de réconfort. Chaque soir, je me trouve un autre favori, ou peut-être deux, et leur endroit préféré est tout droit sur leur entrejambe. Je préfère de loin une femme, car elles sont plus douces et seulement dans ces pays fastidieux du Nord, le maigre capitaine fera l'affaire, si personne d'autre n'est disponible. En fait, il s'appelle le capitaine parce qu'il ne sait pas que c'est moi le prince à bord. L'endroit est à moi! Je suis le patron qui supervise tout depuis le milieu de la table avec une douzaine de disciples assis autour. Laissez-les nourrir leurs illusions! Il y a quelques années, ils avaient le mauvais goût d'amener à bord une jeune chatte venant d'une ferme dans les montagnes basques. Elle était vraiment une beauté mais qui diable leur a dit que j'avais besoin de compagnie? Ce royaume est à moi! Donc, avec une seule gifle, je m'en ai débarrassé discrètement. Ils l'ont retrouvée le même après-midi, flottant dans le port. Puis ils ont amené sa sœur qui a disparu sans laisser de traces. Je suis un artiste, commedia dell'arte! En fait, j'ai moi-même une fois glissé accidentellement au même endroit dans le port, mais j'en suis sorti en grimpant sur les poteaux de béton au prix de mes ongles! Que peut y avoir d'autre chose quand un chat retourne au bateau complètement trempé et avec ses ongles abimés?
Un autre truc qu'ils m'ont joué est notre arrivée de la France méditerranéenne dans ce petit village de pêcheurs basques. Après d'innombrables jours en mer, j'ai eu tous les droits de me promener le soir, n'est-ce pas? Eux-mêmes, ils sont tous allés directement à l'opéra! Mais personne n'a eu la décence de me dire que dans cette mer idiote, il y a une marée de 5 mètres de différence, donc quand je suis rentré, il n'y avait plus de bateau, ou du moins je pensais. On m'avait planté. Je suis parti pour dix jours entiers et je ne dirai à personne où j'étais ou ce qui s'est passé. Maintenant, ils disent qu'ils ont chanté mon nom sur tout le village dans les quatre spectacles qu'ils ont donnés à leur arrivée. Vraiment? Je suis parfaitement capable d'entendre mon propre nom s'ils me parlent, surtout s'il s'agisse de la nourriture, mais là, je suis revenu tout seul, quoique gravement blessé. Mon médecin m'a dit que ma mâchoire gauche était cassée et que je devais l'opérer à 800 euros. Mais ces fous parcimonieux ne voulaient rien dépenser pour moi, eh bien, ils n'en avaient point. Maintenant, parfois, ma langue sort involontairement lorsque je suis paisiblement engagé dans des rêveries et alors ils commencent à rigoler parce qu'ils pensent que c'est drôle. Mais il est évident que c'est moi qui leur tire la langue, n'est-ce pas? Ma douce vengeance, c'est que je les oblige à couper ma nourriture en très petits morceaux, ce qui est un travail fastidieux avec leurs couteaux émoussés, d'autant plus avec le poisson frais que j'adore maintenant. De plus, ma voix a été vachement abimée, mais cela est amplement compensé par l'utilisation de mes griffes qui se sont révélées des plus efficaces.
Dernièrement, ils m'ont joué un autre gaffe. Ils m'ont fait une page facebook! Pfu! C'est l'apogée du manque de respect pour une race ancienne comme la nôtre et la preuve suprême de leur folie. Leur dernière inanité est qu'ils ne vont presque plus à terre. Ils savent très bien que je n'aime naviguer que lorsque le navire reste à quai, où je peux trouver de l'herbe, du sable et des oiseaux avec lesquels jouer. Je soupçonne que ce n'est pas trop différent des fous eux-mêmes, car ils y trouvent généralement des tribus entieres de fous tous frais. Mais maintenant, ils restent à l'ancre et me confinent dans mon royaume. Eh bien, à mon âge, je m'en fiche. Je sais trouver mes endroits sombres dans la brise fraîche de l'après-midi. Au moins, ils ont arrêté de me nourrir de cette nourriture misérable pour chats, et ce n'est que parce qu'on ne le trouve plus dans les magasins. Et quand on le trouve, c'est aussi cher que du vrai jambon. Alors maintenant, ils achètent la vraie chose et ils ont la veine d'en voler une partie. Mais, le plus important, ils apprennent enfin à pêcher eux-mêmes. Il y en a beaucoup autour et ils ont même monté un barbecue hors-bord pour faire frire ces mets délicats. Je les préfère frits! Mais si ces marins sont lents ou paresseux, je sais parfaitement leur rappeler leurs devoirs avec un seul griffe sanglant de mes ongles à leur pattes. Commodément, dans ce climat, ils les ont dénudés. Ici, je suis aussi vigoureux que dans mes meilleurs jours! Mon coup préféré est le soi-disant capitaine. S'il veut ses responsabilités, laissez-le les sentir! Ce petit poisson frit est la meilleure chose à rémuer mes jours.
Moretti

Door Moretti
Ik ben geboren diep verstopt onderin een oude kelder en mijn moeder was een halve wilde. Maar dat is geen rechtvaardiging dat mijn broer en ik ontvoerd werden naar een vreemd, wankel schip nog voordat we zelfs maar onze ogen konden openen. Ik heb niet eens de schoonheid van mijn geboorteplaats mogen aanschouwen, het eiland Pantellería, het paleis van illustere halfgoden als Circe of Armani. In plaats van mijn moeder's zorgen kwam er een bizarre, enorm grote vent, Robbie genaamd die ons met een melkspuitje te eten gaf. Maar langzamerhand begonnen we de plek waar we opgroeiden leuk te vinden omdat het vol kisten en kasten en verborgen hoeken zat om er te klimmen, klauteren en springen. In het begin vond ik het varen zelfs heel leuk omdat dan het hele huis op en neer deinde en al het keukengerei vrolijk heen en weer slingerde.
Die dartelende plek was in feite de thuisbasis van een stelletje zotten wier favoriete, professionele drank de alcohol was en die de slechte smaak hadden om me 'Moretti' te noemen, naar het meest populaire biermerk in mijn thuishaven Pantellería. Dat is de enige trieste herinnering die ik aan mijn geboorteplaats heb. Ik hoorde zelfs dat mijn voorgangers namen hadden als "Whisky", "Wodka" of "Caragillo" en dat laatste is hun favoriete koffie-cognac. Maar ik heb ze nooit verteld dat "Moretti" ook eens de naam is van de àllerberoemdste dynastie van Italiaanse Commedia dell'Arte-artiesten, dus in het geheim draag ik mijn naam met waardigheid. Hoe dan ook, ik werd zelf ook een geweldig acteur door tijdens hun voorstellingen vaak genoeg een plek op het podium tussen de hoofdrolspelers in te nemen. Dat deed ik spelenderwijs maar dan waren ze mooi in één klap alle aandacht kwijt want wat zij daar doen is altijd behoorlijk voorspelbaar, toch? Trouwens, vroeger hield ik toezicht op hun wilde feestjes door me midden op de bar te nestelen waar de mooiste meisjes me kwamen strelen en waar ik natuurlijk ieders lievelingetje werd.
Het leven was buitengewoon vrolijk. We trokken van eiland naar eiland en mijn favoriete bezigheid was om me aan de voeten van de dichtstbijzijnde visser aan de kade te nestelen. Die had dan geen andere keuze meer dan mij verse visjes te voeren. Een echt paradijs was het kleine Griekse stadje Meganissi waar de sardientjes, waarschijnlijk achtervolgd door een roofvis, met honderden spontaan op de lage kade sprongen. Mmmmm. Maar aan alle paradijs komt een eind. Die zotten hadden de slechte smaak om ons toe te vertrouwen aan een groep Duitse vrijwilligers die zich zogenaamd over straatdieren ontfermden. Stel je voor, ik en mijn broer, straatdieren! Dat gebeurde op het zeer eerbiedwaardige Griekse eiland Lefkada, datzelfde eiland waar een wanhopige dichteres Sappho haar leven verloor door van een klif naar beneden te springen en waar een even wanhopige Cleopatra haar zeeslag en wereldrijk verloor. Nou, wìj raakten onze ballen kwijt. Deze vrijwilligers hadden de zelfbedachte missie om alle zwerfdieren die ze konden bemachtigen te kastreren. En, wellicht nóg erger, om ter herkenning het topje van ons linkeroor af te snijden om zo onze schaamte schaamteloos te markeren! En alsof dat nog niet genoeg was hadden diezelfde Duitsers het lef om aan de schipper te vragen of ie zich niet effentjes over tien straathonden kon ontfermen. Ze hadden immers heel goed in de gaten dat wij geen straatkatten zijn die gratis gecastreerd kunnen worden. Welnu, die straathonden worden, terecht, door iedere rechtgeaarde Griek met stenen begroet. En zo lag er dus al gauw zo'n roedel straathonden hijgend voor de loopbrug te wachten op hun walgelijke hondevoer. Ze durfden natuurlijk niet bij mij in de buurt te komen maar mijn middagwandelingetjes werden door dit gepeupel wel enigszins verstoord.
Het werd nooit meer hetzelfde. Mijn broer, die al de gewoonte had om op buurtscheepjes een dutje te doen, zeilde zonder afscheid te nemen slaperig weg. Dat was op een klein Grieks eilandje met amper tweehonderd zielen. Later hoorden we dat hij daar is teruggebracht en door een oud dametje werd geadopteerd. Hìj wel. Ik begon een hekel aan de lange zeetochten te krijgen vanwege al die natte golven aan dek, vanwege dat helse lawaai uit de machinekamer en omdat er geen fatsoenlijke plek was om te schijten. Er is weliswaar zoiets als een daktuin op het achterdek met een boel plantenbakken, dus die kan ik ten minste vrijelijk omwoelen. Maar zodra de motor start probeer ik te ontsnappen en op die manier heb ik meerdere keren de hele expeditie serieus kunnen vertragen door me aan wal te verstoppen. Nu, tijdens het varen, verstop ik me in de diepste hoek van het labyrint van het schip, net als de Russische zogenaamde zeeman Wolodja, die eeuwig zeeziek is. Ik had me graag bij hem gevoegd als hij zijn kajuitje niet had gedeeld met het gebonk van de tweehonderd-en-twintig paarden. Dat is sowieso mijn rol aan boord en dat hebben ze nauwelijks in de gaten. Ik ben de scheepsdokter, de psychotherapeut die precies weet wie zorg en troost nodig heeft. Elke avond vind ik mezelf een andere favoriet, of misschien twee, en hun favoriete plek is recht op hun kruis. Ik geef de voorkeur aan vrouwen omdat ze zachter en zoeter zijn en alleen in die kille noordelijke landen neem ik genoegen met die broodmagere schipper als er niemand anders beschikbaar is. Dat wil zeggen, hij noemt zichzelf de schipper omdat hij nauwelijks beseft dat ìk de prins aan boord ben. Dit universum is van mij! Ik ben de baas die alles vanaf het midden van de tafel bestiert met mijn dozijn leerlingen rondom. Maar laat ze hun illusies koesteren! Een paar jaar geleden hadden ze de wansmaak om een jong katje aan boord te brengen van een boerderij in de Baskische bergen. Ze was een echte schoonheid, maar wie heeft hen in vredesnaam verteld dat ik gezelschap nodig heb? Dit koninkrijk is van mij! Dus met éen enkele haal heb ik haar discreet van boord gewerkt. Ze vonden haar nog diezelfde middag in de haven, drijvend. Daarna brachten ze haar alleraardigst zusje die spoorloos verdween. Ik ben verdorie een artiest, commedia dell'arte! Zelf ben ik ook eens per ongeluk op dezelfde plek in de haven gevallen, maar daar kwam ik uit door ten koste van al mijn nagels de betonnen palen te beklimmen. Wat anders kan er gebeurd zijn als een kat volledig doorweekt en met stompe nagels aan boord terugkomt? Ik heb daar wel de grootste bloedhekel aan want dan ziet iedereen wat voor een scharminkel ik eigenlijk ben.
Een ander flauw grapje haalden ze met me uit toen we uit het Middellandse-Zeegebied in een klein Baskisch vissersdorp aankwamen. Na talloze dagen op zee had ik recht op een avondwandeling, toch? Zìj gingen meteen met zijn allen rechtstreeks naar de opera! Maar niemand had het fatsoen om mij te vertellen dat er in die gekke noordelijke zeeën zoiets als een getij van vijf meter verschil bestaat. Dus toen ik terugkwam was er geen schip meer te bekennen. Dat dacht ik toen tenminste. Ik voelde me behoorlijk belazerd en bleef tien hele dagen weg zonder ooit te vertellen waar ik geweest ben of wat er gebeurd is. Ze beweren dat ze via de luidsprekers mijn naam over het hele dorp hebben gezongen tijdens de vier voorstellingen die ze na aankomst gaven. Werkelijk? Ik ben perfect in staat om mijn eigen naam te horen als ze tegen me praten, vooral als het om eten gaat, maar hier kwam ik helemaal zelfstandig terug, zij het zwaar gewond. Mijn dokter vertelde me dat mijn linkerkaak was gebroken en dat een operatie achthonderd euro zou kosten. Maar die gierige zotten wilden niets aan mij spenderen, nouja, ze hadden ook bijna niks. Nu gebeurt het af en toe dat ik mijn tong ongewild uitsteek wanneer ik stilletjes met mijn mijmeringen bezig ben en dan beginnen ze te giechelen omdat ze denken dat het grappig is. Maar het is vrij duidelijk dat ìk het ben die mijn tong naar hen uitsteek, nietwaar? Mijn zoete wraak is dat ik hen dwing om nu mijn eten in héle kleine stukjes te snijden, wat met hun stompe messen een omslachtige klus is, te meer met de verse vis die ik de laatste tijd lekker begin te vinden. Ook mijn stemvolume is half verdwenen, maar dit wordt ruimschoots gecompenseerd door mijn klauwen te gebruiken wat eigenlijk nog veel efficiënter blijkt te zijn.
Laatst kwamen ze met weer een andere grap. Ze maakten een face-book-pagina voor mij! Pfu! Dit is wel het toppunt van gebrek aan respect voor een ras zo oud als het onze en het ultieme bewijs van hun zotheid. En het laatste affront, hun allerlaatste waanzin is dat ze nauwelijks meer aan land gaan. Ze weten donders goed dat ik alleen van varen hou als het schip aan de kade ligt waar ik wat gras en zand en vogeltjes kan vinden om mee te spelen. Ik vermoed dat ze er zelf ook zo over denken, omdat ze daar meestal een heleboel verse zotten vinden. Maar nu blijven ze alsmaar op anker en beperk ik mij noodgedwongen tot mijn koninkrijk. Nou, op mijn leeftijd kan het me niet veel meer schelen. Ik weet mijn schaduwrijke plekjes in de frisse middagbries best te vinden. Ze geven me tenminste niet meer dat ellendige kattenvoer, maar dat komt alleen omdat het schijnt dat er in dit land geen winkels meer zijn die die rommel verkopen. En als je het dan in de winkel kan vinden, is het net zo duur als èchte ham. Dus nu kopen ze eindelijk het echte werk maar ze hebben wel het het lef om een fink deel ervan voor hunzelf te stelen. Het belangrijkste nog wel is dat ze eindelijk leren vissen. Dat wil zeggen, de lokale indianen leren ze hoe ze het moeten doen. Er is hier zat vis in de buurt en ze hebben zelfs een buitenboord barbecue gemaakt om deze lekkernijen te bakken. Want meestal heb ik de vis liever gebakken. Als ze wat traag zijn, weet ik ze heel goed aan hun taak te herinneren door een bloederige haal van mijn nagels aan hun poten. Het komt goed uit dat ze in dit klimaat geen broek dragen. Hierin ben ik net zo flink als in mijn beste dagen. Mijn favoriete uithaal zijn de schenen van die zogeheten Captain Food. Of, als we aan tafel zitten, anders wel zijn neus! Als hij zijn verantwoordelijkheden wil nemen, laat hem die maar voelen. Ik wil mijn gefrituurd visje om over oude tijden te mijmeren. De laatste tijd raak ik ook verslaafd aan het knarsen van verse vis terwijl ze nog spartelen. Soms is dat nog beter!