COLOMBIA
The Captain's Log Book 33
Thursday, February 21, 2019
Taganga, Santa Marta, Colombia
11°16'081" N, 074°11'541" W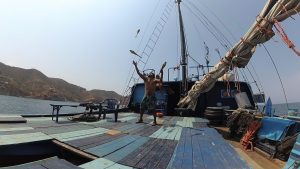 The stars are shining but you never know from where. For our proposition to stage a Curaçao show during the Carifesta Festival, the island happened to be pretty small and too limited its cultural scope. Since Carifesta is a summer meeting, there might have been enough time to mobilize this Curaçao delegation. But the harbour charges exorbitant prices, living up its reputation of 'The Dragon's Mouth' by exploiting its monopoly. Then, we don't easily pardon them to let us drift at sea at New Years Eve, even if this is the best place to see the fireworks. Neither appeals to us the perspective of witnessing the heaps of people that mega-cruises continuously vomit over town. So we recur to one of the small pleasures of life, that is to look at the map to choose a next destination. That was to be Santa Marta, the oldest colonial town in the America's. So the fools set sail again, this time with a unprecedented sense of freedom because for the first time in thirty years there's no project pending. Arriving after a few days of sailing in the bay of Santa Marta, we immediately turned round to Taganga, a nearby village in a natural parc with snow covered mountain tops.
Colombia is a fascinating country. The cheerfulness of it's inhabitants is tantamount to the misery they're kept in. You would say it's a peaceful country if the social leaders, those who could bring about a social change, were not systematically killed. People survive by singing songs or selling sweeties in the auto bus. Taganga bay is a small scale tourist resort for locals that attracts a lot of itinerant street musicians and performers. We befriended some communities of artists and nomads that are settled in the mountains and invited them to mount a cabaret night on board. A fisherman served as the ferry-man. This became a classic in the best traditions of the Amsterdam, Barcelona and Basque theater nights. Most of the acts were circus, a unique feature and quite heroical, since the ceiling is barely two meters high. And not without a touch of melancholy because these copious nights are becoming rare, even if we manage to find a mooring in the big cities of Barranquilla or Carthagena de las Indias.
Now, the Magnum Opus to pursue is the desert trip on wheels to the Uluru rock in Australia – as the apotheosis of the milenary history of The Ship On Wheels. So finally, I unearthed some maritime charts and nautical books to cast a first glance at the challenges that present the crossing of the Pacific. Trade winds, currents, distances, periods, islands, coral reefs, monsoons, squalls, tropical storms. At first glance this is rather reassuring lecture because the most hazardous features are the riffs and tropical storms, both to circumvent with good charts and good timing. The propitious moment to pass the Panama canal seems to be in about ten months.
There's a XV-th century sermon titled "The Guild of the Blue Barge" that summons all 'Mates of Wild Manners" to embark on the ship, on her way to damnation. The personification of an indestructible, joyful pagan ritual.or lost souls who do not accommodate themselves to society. This time, we sail for real. Ten month's to gather these Mates of the Blue Barge. In these regions, there're plenty of candidates around. Here, the freshly constructed outboard barbecue is most helpful. Next day it highlighted real Italian pizza. In the morning fresh fish is brought by returning fishermen, the Purveyors of the Fool's Household. The figure head on the bow is a spoon and a fork. Here We Come, We're Hungry.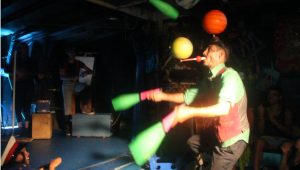 Las estrellas brillan, pero nunca se sabe de dónde. Para nuestra propuesta de organizar un espectáculo en Curaçao durante el Festival de Carifesta, la isla es un poco pequeña y su alcance cultural limitado. Como Carifesta es una reunión de verano, hay tiempo suficiente para movilizar a esta delegación de Curaçao, pero el puerto cobra precios exuberantes, cumpliendo con su reputación de "La Boca del Dragón" al explotar su monopolio. No perdonamos fácilmente el que nos hayan dejado flotar en el mar en la víspera de Año Nuevo, incluso si este es el mejor lugar para ver los fuegos artificiales. Tampoco nos atrae el asistir a la perspectiva de ver el rimero de personas que los mega cruceros continuamente vomitan sobre la ciudad. Así que recurrimos a uno de esos pequeños placeres de la vida que es mirar el mapa para elegir un próximo destino. Esa iba a ser Santa Marta, la ciudad colonial más antigua de las Américas. Así que los Locos zarpan de nuevo, esta vez con un sentido de libertad sin precedentes porque por primera vez en treinta años no hay ningún proyecto pendiente. Al llegar después de unos días de navegación a la bahía de Santa Marta, nos dirigimos inmediatamente a Taganga, un pueblo cercano en un parque natural con cimas de montañas cubiertas de nieve.
Colombia es un país fascinante. La alegría de sus habitantes es equivalente a la miseria en la que viven. Dirías que es un país pacífico, si no fuese porque los líderes sociales, quienes podrían provocar un cambio social, fueran asesinado sistemáticamente. La gente sobrevive cantando canciones o vendiendo dulces en el autobús. La bahía de Taganga es un centro turístico a pequeña escala para los lugareños que atrae a muchos músicos callejeros y artistas itinerantes. Nos hicimos amigos de algunas comunidades de artistas y nómadas en las montañas y los invitamos a montar un cabaret a bordo. Un pescador sirvió de barquero. Esta noche se convirtió en un clásico en las mejores tradiciones de Amsterdam, Barcelona o Euskadi. La mayoría de los actos fueron de circo, una característica única y bastante heroica, ya que el techo tiene apenas dos metros de altura. Y no sin un toque de melancolía porque estas noches copiosas se están volviendo raras, incluso si logramos encontrar un amarre en las grandes ciudades de Barranquilla o Cartagena de Indias.
Ahora, el Magnum Opus a perseguir es el viaje sobre ruedas por el desierto, hasta Uluru Rock en Australia. Esto es la apoteosis de la historia milenaria del Barco Sobre Ruedas. Así que finalmente desenterré algunas cartas marítimas y libros náuticos para echar un vistazo a los desafíos que presenta el cruce del Pacífico. Vientos alisios, corrientes, distancias, períodos, islas, arrecifes de coral, monzones, tormentas tropicales. A primera vista, es una lectura más bien tranquilizadora, debido a que las características más azarosas son los arrecifes y tormentas, ambos a sortear con buenas mapas náuticos y un buen timing. El momento propicio para pasar el canal de Panamá parece ser en unos diez meses.
Hay un sermón del siglo XV titulado "El Gremio de la Barcaza Azul" que convoca a todos los "Compañeros de Maneras Salvajes", todas las almas perdidas que no se acomodan a la sociedad, para embarcarse en la nave. Esta vez navegamos de verdad. La personificación de un ritual pagano indestructible y alegre. Diez meses para reunir a los compañeros de la hermanidad. En estas regiones, hay muchos candidatos. La recién construida barbacoa-fuera-de-borda es de lo más útil. Ya al día siquente se servía pizza de verdad. Por la mañana el pescado fresco es entregado por los Provedores de la Corte de los Locos, pescadores que regresan. La figura de proa es una cuchara y tenedor. Aqui Vamos – Tenemos Hambre.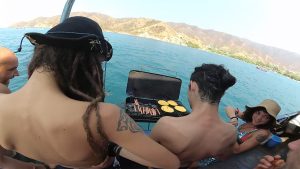 Les étoiles brillent mais on ne sait jamais d'où. Pour notre proposition d'organiser un spectacle à Curaçao pendant le festival Carifesta, l'île est un peu petite et sa portée culturelle trop limitée. Comme Carifesta est une réunion qui se déroule en été, il y aurai eu suffisamment de temps pour mobiliser cette délégation de Curaçao mais le port facture des prix exorbitants, renforçant sa réputation de 'gueule de dragon' en exploitant son monopole. Et puis, nous ne leur pardonnons pas facilement de nous avoir laissé dériver en plein mer à la veille du Jour de l'An, même si c'est le meilleur endroit pour voir les feux d'artifice. Nous ne sommes pas non plus intéressés à la perspective de voir ces tas de gens que les méga-croisières vomissent continuellement en ville. Nous nous tournons donc vers l'un des petits plaisirs de la vie, qui est de regarder la carte pour choisir une prochaine destination. Ce fut donc Santa Marta, la plus ancienne ville coloniale des Amériques. Les Fous ont donc repris la route, cette fois avec un sentiment de liberté sans précédent, car pour la première fois en trente ans, aucun projet n'est en cours. Arrivés après quelques jours de navigation dans la baie de Santa Marta, nous nous rendons immédiatement à Taganga, un village situé dans un parc naturel aux sommets enneigés.
La Colombie est un pays fascinant. La gaieté de ses habitants est équivalente à la misère dans laquelle ils sont enfermés. On pourrait dire que c'est un pays en paix, si seulement les dirigeants sociaux, ceux qui pourraient provoquer un changement social, ne soient pas systématiquement assassinés. Les gens survivent en chantant des chansons ou en vendant des friandises dans l'autobus. Taganga Bay est une petite station touristique pour les locaux et qui attire nombreux musiciens de rue et d'artistes itinérants. Nous sommes devenus amis avec quelques communautés d'artistes et des nomades installés dans les montagnes et les avons invitées à monter une soirée cabaret à bord. Un pêcheur sert de batelier. Cette nuit est devenu un classique dans les meilleures traditions des soirées de théâtre d'Amsterdam, de Barcelone et d'Euskadi. La plupart des actes étaient du cirque, une caractéristique unique et plutôt héroique, le plafond n'étant que de deux mètres de haut. Et pas sans une touche de mélancolie car ces nuits copieuses se font rares, même si nous parvenons à nous amarrer dans les grandes villes de Barranquilla ou de Carthagena de las Indias.
Maintenant, l'Opus Magnum à poursuivre est le voyage sur roues à travers le désert, jusqu'à Uluru Rock en Australie – comme l'apothéose de l'histoire milénaire du Navire Sur Des Roues. Alors, finalement, j'ai mis au jour quelques cartes marines et des livres nautiques pour jeter un premier regard sur les défis présentés par la traversée du Pacifique. Alizés, courants, distances, périodes, îles, récifs coralliens, moussons, bourrasques, tempêtes tropicales. À première vue, cette lecture est plutôt rassurante car les caractéristiques les plus hasardeuses sont les récifs et les tempêtes tropicales, les deux à contourner avec de bonnes cartes et un bon timing. Le moment propice pour passer le canal de Panama semble être dans environ dix mois.
Il existe un sermon du XVe siècle intitulé "La Guilde de la Barge Bleue" qui appelle tous les "Compagnons de la Voie Sauvage", toutes les âmes perdues qui ne s'accomodent pas à la société, à embarquer sur le navire, sur ce chemin vers la damnation. La personnification d'un rituel païen indestructible et joyeux. Cette fois, nous naviguons pour de vrai. Dix mois pour rassembler ces compagnons de la fraternité. Dans ces régions, les candidats ne manquent pas. Ici, le barbecue hors-bord nouvellement construit est du plus utile. Le lendemain, il a mis en valeur la vraie pizza italienne. Le poisson frais du matin est livré par les Fournisseurs de la Maison des Fous, les pêcheurs qui reviennent du large. La figure de proue est une cuillère et une fourchette. Nous Y Voilà, Nous Avons Faim.