"Crazy for the Theatre and the Sea"
Formentera, Spain. Diario de Ibiza, 19-09-2006
The Ship's Journal is a contemporary maritime saga about a group of artists on an endless pilgrimage.
It visualises a continuous Gesamtkunstwerk, an ongoing collective creation that is publicised on the web and in the social and news media.
The audience becomes a fellow traveller on a parallel journey on the web.
This Logbook is adorned by the richness of the historical perspectives, by the philosophical and visual variety of the cultural activities and by the participation of storytellers and filmmakers of different cultures.
It is transmedia project because it lingers on the border of documentary, digital culture and design.
It is multimedia project because it encompasses a range of different media like video, animation, photography and the written word. It investigates new media like instagram or mobile first storytelling
or whatever is going to be the most common communication in the host countries
It is a unique feature in theatre that the end of the show is only the harbinger of a new narrative.
The end of the festival offers the public the beginning of a serial that gradually is being build up
into a spectacular climax: the crossing of the desert.
The dramatic finality of this endeavour is bound to attract along the way the imagination of the audiences long after the departure of the ship.


Opportunity (l'Hazard) Does Things Well
Marseille, France. La Marseillaise, 28-07-2011

BASIC STORY LINES
THE SEA & THE SAILING
The romance and heroism of the sea.
THE CREW & THE GALLEY
The virtues and vices of the crew
THE CULTURES & LANDSCAPES
The splendor of diversity.
THE PUBLIC & MEETINGS
The interaction with the authorities, the neighbourhood, the public and other artists.
THE SHOWS & PERFORMANCES
Fragments and results of the artistic productions.
FOLLY & GAGS
Everyday comic interludes "In Praise of Folly."


Fools of Eigth Countries United
St. Petersburg, Russia. Gorod, 10-08-1995
A NATIONAL MARITIME DREAM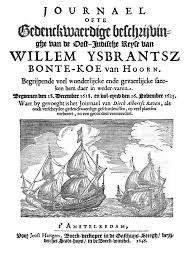 The Logbook or the memorable descriptions of the East Indian travel of Willem Ysbrantsz Bontekoe of Hoorn,
containing many wondrous and dangerous stories. Amsterdam 1648
The Bontekoe logbook was a seaman's story full of wonders and dangers
that managed to catch the imagination of a young seafaring nation.
It became the most widely read and popular book of that century
in which Holland became a great seafaring nation.
Now the country relives a contemporary maritime dream.
A ship is rigged for another trip to the East, to tell a new maritime saga.
This is an exciting sequel story of a group of actors, writers and filmmakers from all over the world
whose travel and adventures are the subject of a collective artistic creation.


The Ship of Fools is a Model of the World
Helsinki, Finland. Kolmapaev, 09-08-1995