AN ITINERANT FESTIVAL OF FOOLS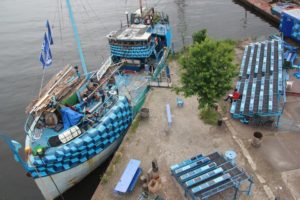 This "Blue Square" serves for some weeks or months
as a local theatre and temporary meeting place, as a county fair for the Arts and Theatre.
It's a small scale Art Festival for a public of all cultures and ages
for a artistic interchange of local and international artist.
THE THEATRE OF THE STOMACH .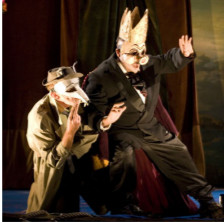 The Fools present a Universal Theatre accessible to a public of all cultures and ages, written in the universal language of comedy, in a tradition that links the the Roman satires and Saturnalia with the pagan fertility rites, with the medieval buffoon, the Commedia dell´Arte, the clown and the Theatre of the Absurd.
It's a Grotesque Theatre of disguises, distortions and mutilations, of transgression and transformation, of incongruity and disproportionality.
It's a Total Theatre, an interdisciplinary theatre of images, objects, gestures, marionettes, dance and music.
It's an Optimistic Theatre that exalts the laughter as the best elixir of renewal, the open and honest laughter of a child, jovial and liberating… the salutary laughter of a joyful metamorphose and malicious and insolent against stagnation and one-self.
It's a Direct Theatre, primitive, participative en anti-academical, with torrents of gaiety, efficient caricatures, clever and cynic inventions in which there's continuity between the public and the scenic reality and where the public participates in de operation of catharsis – in a temporary suspension of banns and inhibitions.
It's a Gesamtkunstwerk (Total Artwork), a theatralisation of life that doesn't limit itself to a set of performances but that includes the ship as an absurd sculpture, as well as the whole array of the travel and experiences of the crew and the images and stories produced by them.
STORIES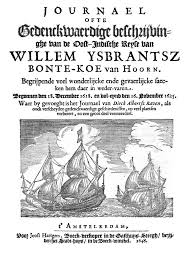 The Bontekoe logbook was a seaman's story full of wonders and dangers that managed to catch the imagination of a young seafaring nation.
It became the most widely read and popular book of that century in which Holland became a great seafaring nation.
Now the country is about to relive a contemporary maritime dream. A ship is being rigged for another trip to the East, to tell a new maritime saga.This is an exciting sequel story of a group of actors, writers and filmmakers from all over the world whose travel and adventures are the subject of a collective artistic creation. Central to this is the collaboration with local artists.