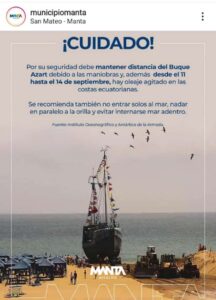 Donation
For the Cultural Centre "Buque Azart" on the beach in Ecuador

It's a miracle that the centenary ship Azart ends on a South American beach like a contemporary Temple of Folly. The miracle is that it still sails for more then thirty years despite countless dangers and financial hardships. The miracle is that the city of Manta has cleared a spot for the old barge on the beach of the hamlet of San Mateo. The miracle is that the energetic theater group "Humor y Vida" is embraces the project to create a cultural center. With the modern tribune and a professional beamer, it's gonna be the village cinema and neighborhood theater. With ten cabins it will be the artist residence that attracts, like a magnet, artists from the entire South American continent.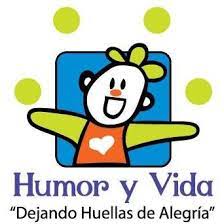 February 2020


The theatre ship Azart moored in a small fishing port in Ecuador to put on a show with Marimba artists


The pandemic turned t

he ship from a welcome guest into a dangerous pariah


The pandemic killed the show. 

The pandemic killed the travel
Finita La Commedia !


February 2021


The city of Manta in Ecuador embraces the ship on the beach of the fishing village San Mateo
The theater group "Humor & Vida" turns the ship into the cultural center "Buque Azart"
Azart continues to tell her stories


The Show Goes On !

Sept 12, 2021 from 7 AM
The Beaching of the Ship !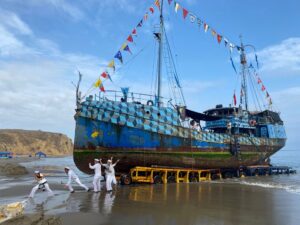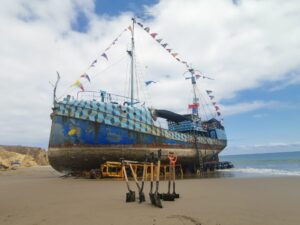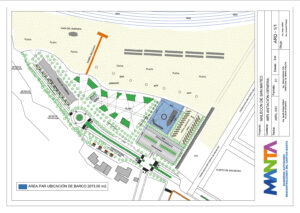 Planning of the city of Manta. The ocean is at the top.
The blue area of 2000㎡ is reserved for the ship and tribune. 
After thirty three years of free navigation, the ship will be neatly encapsulated between bus stop one,
the parking lot for cars and small fishing boats, between the trees and bars.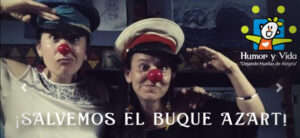 Let's save the Buque Azart.      Paty & Shana, members of the Corperacion "Humor y Vida"
                                                                                                               The Theater "Buque Azart" is in a permanent collaboration
                                                                                                                      with the Amsterdam Plein Theater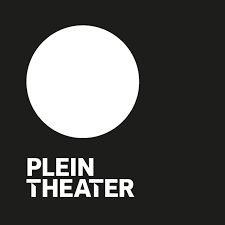 AZART BOOKS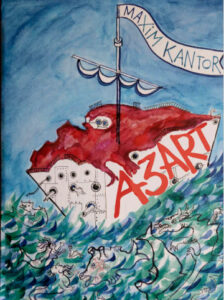 "Azart" ! Een filosofische roman over de teloorgang – en de toekomst – van Europa, verpakt als kluchtige avonturenverhaal met trekjes van een detective.
Geschreven en geïllustreerd door Maxim Kantor en uit het Russisch vertaald door Lena Hemmink. 
ISBN 9789464028768   248 Pagina's   19×26 cm   1200 gr.   25.00 €   Bestellen

"Azart – The Ship of Fools", a colourful photo-artbook that honours the millenary history of The Ship of Fools,
the centenary fishing vessel and the thirty years of an erratic theatre company.
ISBN 9789090325613   248 Pagina's   16.7×24.5 cm   25.00 €   To buy