THE MAGNUM OPUS – AN ENDLESS FESTIVE PAGEANT
AROUND THE GLOBE
IN PRAISE OF FOLLY
"Azart – The Ship of Fools"
A colourful photo-artbook
that honours the millenary history of The Ship of Fools,
the more then hundred years of the veteran fishing vessel
and the thirty years of an erratic theatre company

ISBN 9789090325613    248 Pagina's     16.7×24.5 cm      25.00 €
To buy a copy of the book, go to page contact
Support the Captain stuck in the hospital in Quito, Ecuador
Cultural Association Friends of Azart
 Vereeniging van Vriendinnen en Vrienden van Azart
Vereniging Vrienden van Azart
TRIODOS IBAN No: NL 94 TRIO 0338 5997 38
Apeldoorn. Holland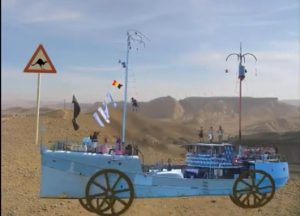 The Ship of Fools Sets Sail to Uluru
For thirty years, "The Ship of Fools" has been a traveling theater company – a contemporary India-man whose cargo is made up of intangible goods such as music, images, stories and dreams. The ship follows the old colonial trade routes, this time to heal and not to steal, to play but not to slay – by defending humanist values ​​as the basis of a true equality between the persons, sexes, and peoples.
The elders of the Aboriginal tribes of the North-South Territory, who are the custodians of Uluru, invite the ship 'Azart' for a festive ceremonies in their sacred cathedral. This meeting at the foot of Uluru is intended to shift the perspective of the commemoration of 250 years of Cook's landing into an observation of what this landing actually provoked: the destruction of a continent and a culture that cared for it for fifty thousand years in a sustainable matter. It gives, in the face of this history, a perspective to a carbon addicted country. This celebration gives, with artistic means, a voice to the First Nations and their Uluru Statement From The Heart.
"The Ship of Fools", as the wildest car of the carnival parade, is the expression of the most persistent vestiges of per-Christian rituals, a spring festival to celebrate abundance and – by extension – exuberance. It became the symbol of the reversal of social roles, of the world upside down – of society that has lost its course. Historically, it always has been a ship on wheels, the vehicle of all dissidents, nomads, refugees and outcasts that are exiled from society. We came to Australia, in all innocence, to embark the despised nations of the Aborigines as symbolic travel companions in the Universal Ship of Fools. The recent bush-fires on the continent show that it is high time to take all of humanity on board! We're all in the same ship. We set sail towards a joyful jubilation of the union between the age-old Carnival traditions and the Corroboree, the very oldest of all human sacred ceremonies.
See links:
Activities 2018
Best Photos 2017
111 Photos Itinerant Theater 1986-2016
Join the Ship of Fools
to the Other Side of the World
Azart – The Ship of Fools is an independent theater group
sailing on a one way voyage to the Southern Hemisphere
– to cross the Australian desert on wheels
as the apotheosis of the millennial history of The Ship of Fools.
Their Journey is an Eternal Festive Pilgrimage in Praise of Folly ..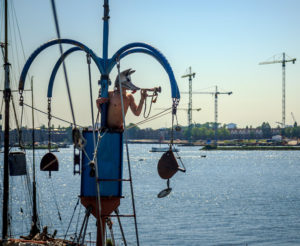 The crew presents in many a harbor a Festival of Fools
as a community project and international artist residence.
We believe humor connects and transcends our differences.
We celebrate life and the joy of living through theater, art and poetry.
Join the Fools, by taking part as as artist and fellow traveler.
Join the Fools by sharing our virtual logbook about the adventures.