THE MAGNUM OPUS – AN ENDLESS FESTIVE PAGEANT
AROUND THE GLOBE
IN PRAISE OF FOLLY
"Azart – The Ship of Fools"
A colourful photo-artbook
that honours the millenary history of The Ship of Fools,
the more then hundred years of the veteran fishing vessel
and the thirty years of an erratic theatre company

ISBN 9789090325613    248 Pagina's     16.7×24.5 cm      25.00 €
Book for sale 25.00 € in Amsterdam book shops:
"Van Pampus", NDSM-laan 303
"Prent & Boek", Zuiderkerkhof 3
"Fort van Sjakoo", Jodenbreestraat 24
"Pegasus", Singel 367
OR
Transfer 29 € (* inclusive postage) to account:
TRIODOS IBAN No: NL 94 TRIO 0338 5997 38
Vereniging Vrienden van Azart
Apeldoorn, Holland
Mention your address and email for info delivery !
(*) Postage 29 € only in Holland.
For postage in Europe, transfer 34 €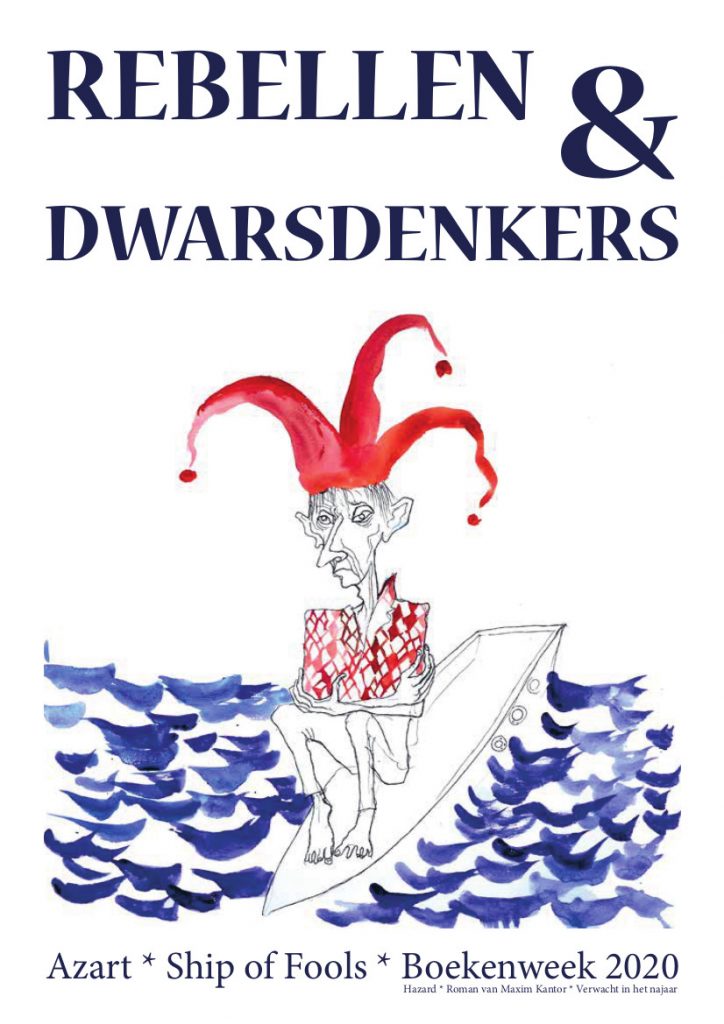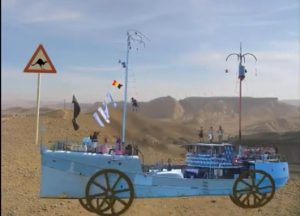 In 1770 Captain Cook landed in Australia which heralded the colonization of the continent. This proved to be a story of abuse that destroyed an age-old civilization. Australia now is a prosperous country that seeks a reconciliation with his tormented past. The commemoration of Captain's Cook arrival 250 years ago is a great opportunity for a symbolic restitution to the original inhabitants of the continent they enjoyed for the 60.000 years before. It would be a symbolic recognition for the values with which they cared for their lands. The magnitude and speed of the expropriation and the vastness of the country itself calls for a solemn but grand ceremony. Invited by the elders, the Ship of Fools sets sail In October 2020 to the Uluru. She sails on wheels as the apotheosis of the millenary history of the Ship of Fools and her carnavalesque traditions. She crosses the desert as a passage through hell for a purification ritual at the foot of the Holy Mountain. Aboriginal and Australian artists join the journey to share the jubilant celebration of the restitution of the ancient rights.
See links:
Activities 2018
Best Photos 2017
111 Photos Itinerant Theater 1986-2016
Join the Ship of Fools
to the Other Side of the World
Azart – The Ship of Fools is an independent theater group
sailing on a one way voyage to the Southern Hemisphere
– to cross the Australian desert on wheels
as the apotheosis of the millennial history of The Ship of Fools.
Their Journey is an Eternal Festive Pilgrimage in Praise of Folly ..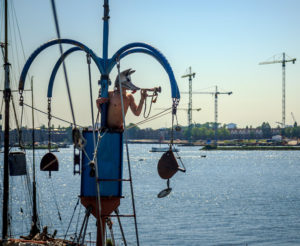 The crew presents in many a harbor a Festival of Fools
as a community project and international artist residence.
We believe humor connects and transcends our differences.
We celebrate life and the joy of living through theater, art and poetry.
Join the Fools, by taking part as as artist and fellow traveler.
Join the Fools by sharing our virtual logbook about the adventures.