Donation Cultural Centre Azart Ecuador
February 2020


The theatre ship Azart moored in a small fishing port in Ecuador to put on a show with the local pride: Marimba artists. The pandemic killed the show. From a welcome guest the ship turned into a dangerous pariah. The pandemic killed the travel.  Finita La Commedia !

February 2021


The city of Manta in Ecuador enthusiastically supports the vision to put the ship on the beach as an urban theater and neighborhood cinema. The ship becomes the magnet of a cultural revitalization of San Mateo beach, led by the local theater group "Humor & Vida". Azart continues to tell her stories.

The Show Must Go On !
Expected beaching: July 25, 2021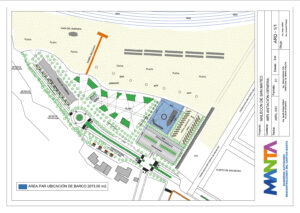 The ocean is at the top. The blue area is reserved for the ship and tribune. Planning of the city of Manta.
After thirty years of free navigation, the ship will be neatly encapsulated between bus stop 8,
the parking lot for cars and small fishing boats, between the trees and bars. 
BOOKS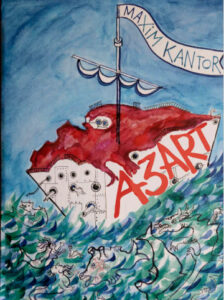 "Azart" ! Een filosofische roman over de teloorgang – en de toekomst – van Europa, verpakt als kluchtige avonturenverhaal met trekjes van een detective. Geschreven en geïllustreerd door Maxim Kantor en uit het Russisch vertaald door Lena Hemmink. 
ISBN 9789464028768   248 Pagina's   19×26 cm   1200 gr.   25.00 €   Bestellen

"Azart – The Ship of Fools", a colourful photo-artbook that honours the millenary history of The Ship of Fools,
the centenary fishing vessel and the thirty years of an erratic theatre company.
ISBN 9789090325613   248 Pagina's   16.7×24.5 cm   25.00 €   To buy