THE MAGNUM OPUS – AN ENDLESS FESTIVE PAGEANT AROUND THE GLOBE IN PRAISE OF FOLLY

Azart presents
PRAISE OF FREEDOM
a new spectacle, made by Tolin Alexander and local actors & musicians to be presented
0n the SMS-pier, Waterkant in Paramaribo on Oct, 19-21-26-27-28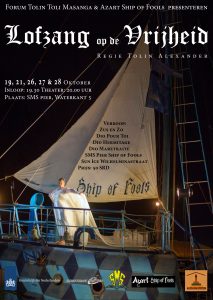 Synopsis :
Er ligt een karakteristiek, honderdjarig schip aan de oude pier van Paramaribo. Het schip is uitgerust in een eigentijdse, kunstzinnige versie van de kaapvaarder, van de moderne vrijbuiter wiens scheepslading bestaat uit ervaringen en verhalen, beelden en dromen. Schip en kapitein zijn afkomstig uit Amsterdam, dezelfde stad die Suriname eeuwenlang als achtertuintje en wingewest exploiteerde. Hij keert nu terug met de oproep om vrij te zijn, om de ketenen te verbreken van sociale conventies en schijnheiligheid, van ideologische en politieke manipulatie. Aan wal treft hij een lokale gemeenschap aan die niet op hem wacht. De dorpsoudste Tuwaka is een wijze vrouw en behoorlijk sceptisch en vijandig. De dorpspriester Ankwa ziet de geesten van het verleden wanneer slaven als schimmen aan dek verschijnen. De tussenpersoon Annikei is de dorpspoliticus, de opportunist die tussen de partijen bemiddelt. De misverstanden tussen kapitein en de dorpelingen onderling leiden tot tragikomische taferelen. De dorpspriester neemt het initiatief tot een reinigingsceremonie van het schip die leidt tot een vrolijke karnavaleske ontknoping in dans en muziek.


"The Ship of Fools fulfills her promise with a Suriname production"
"De Ware Tijd", 18 Sept 2018

Activities 2018
Photos 2017
111 Photos Itinerant Theatre 1986-2016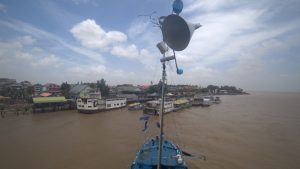 On Thursday March 29 at 12.12 PM Azart arrived at the SMS-steiger (jetty)
in the heart of Paramaribo Waterkant #5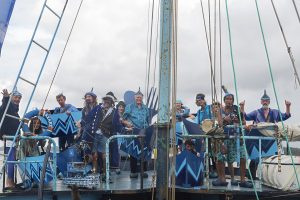 Join the Ship of Fools
to the Other Side of the World
Azart - The Ship of Fools is an independent theater group
that sails on a one way voyage to the Southern Hemisphere
- to cross the Australian desert on wheels
as the apotheosis of the millenial history of The Ship of Fools.
Their Journey is an Eternal Festive Pilgrimage in Praise of Folly ..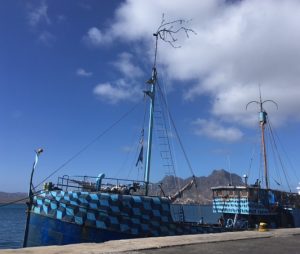 The crew presents in many a harbor a Festival of Fools
as a community project and international artist residence.
We believe humor connects and transcends our differences.
We celebrate life and the joy of living through theater, art and poetry.
SUPPORT NOW
BUY A MILE, BUY A SMILE, BUY A SeaMILE
The ship sails 7.2 sea miles an hour = 20 liters of diesel an hour
Each sea mile = 2.8 liter = 2.44 € (average price 88 ct/liter)

COLABORA YA!
PON TU SEMILLA, COMPRA UNA MILLA
El barco navega a 7,2 millas por hora = 20 litros de diesel por hora. Cada milla = 2,8 litros = 2,44 € (precio medio 88 centimos / litro)
SOUTENEZ LES FOLLES Y ACHETEZ UN MILLE NAUTIQUE
Le navire navigue 7.2 miles à l'heure = 20 litres de diesel par heure. Chaque mile en mer = 2,8 litres = 2,44 € (prix moyen de 88 cents / litre)
LAGUNDU HEMEN ETA ORAIN!
AUKERATU ZURE SARIA, OPARI ZOROEI ITSAS MILIA
Itsasontzia orduko 7,2 milietara doa. Orduko 20 litro diesel behar du. milia bakoitzeko 2,8 litro= 2,44€ (88 zentimo litroa)
If you do not use internet banking, see: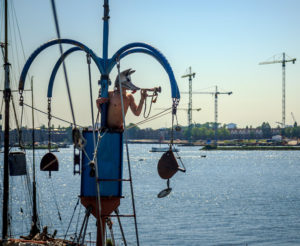 Join the Fools, by taking part as as artist and fellow traveler.
Join the Fools by sharing our virtual logbook about the adventures.
Join the Fools by buying Seamiles.
First destinations:
Amsterdam - Galicia - Cabo Verde  - Surinam