FREEDOM
# 030
Sunday, September 23, 2018
SMS-pier, Waterkant #5, Paramaribo, Suriname.
55º09´173´´, North, 005º49´520´´ West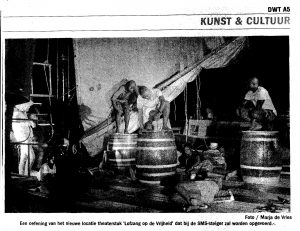 The huge wooden summer shed on the quay that faces the ship gradually transforms into a reception room, office, dressing studio and rehearsal space. Things are getting serious. We could comfortably settle here if the Fool's Fate wasn't an ongoing traveling onward. There's even a panoramic kitchen thrice as spacious as our own in the artist saloon down the deck. This famous saloon, home to countless late night cabarets, now is a deserted and tidy museum piece that dazzles the curious onlookers visiting the ship. The biggest adventure is making the theater play that already promises to become quite a feature by the sheer fact that there's not much of a theater routine in town. A shaky roof has closed it's only theater hall. The title of the play is 'Praise of Freedom". It's about an Amsterdam sailor, ambassador of the city's free spirit, who returns to the country that has been for centuries the city's property and back yard. Actually, the bulk of it's first inhabitants are being brought as slaves by similar ships. The very existence of the country is due to slavery and this theme, being still very much alive, engages the actors. Now, the captain returns in an attempt to break the chains of social conventions, that are very much alive as well. The play ends in an carvalesque climax. The designer of this costumed fraternization is a talented 14 years old kid picked up from Paramaribo street-life who sleeps in the wheelhouse.
The premiere is delayed by half a month. The fools are gratefully adapting themselves to the southern speed of life. Already, the ship herself marks the pace by crossing the ocean at bicycle speed. We took advantage of the last half a year interlude to carry out a serious set of small repairs and replacements in the motor room, some overdue by decades. We introduced some unheard innovations like a tightly strung sunshade over the main deck or the dinghy hoisted to the stern. After a face-lift of paintwork and patchwork, the centenary lady becomes the bizarre, blue sculpture playing a beauty adrift. But as appointments and time tables become indefinite, so do destinations. Let the trade winds set the course. But where is my crew? Suriname people are terrified of the sea. The ship resembles, paraphrasing Pirandello, 'A Stage in Search of Six Characters'. Before each of the six shows, another local personality gives a short lecture about freedom.
LIBERTAD
El enorme cobertizo de madera en el muelle frente al barco se transforma gradualmente en una sala de recepción, oficina, taller de costumes y espacio de ensayo. Las cosas se ponen serias. Aqui podríamos establecernos cómodamente si el destino de los locos no fue un continuo viaje hacia adelante. Incluso hay una cocina panorámica cinco veces más amplia que la nuestra en el salón de artistas. Este famoso salón, que ha albergado innumerables cabarets nocturnos, ahora es una pieza de museo bastante desierta y muy ordenada que deslumbra a los curiosos que visitan el barco. La mayor aventura es hacer la obra de teatro que ya promete convertirse en un gran evento por el simple hecho de que no hay mucha rutina de teatro en la ciudad. Un tejado inestable ha cerrado su único sala de teatro. El título de la obra es "Elogio de la Libertad". Se trata de un marinero de Amsterdam, embajador del espíritu libre de la ciudad, que regresa al país que ha sido durante siglos la propiedad de su ciudad. En realidad, la mayor parte de sus primeros habitantes están siendo traídos como esclavos por barcos similares. La existencia misma del país se debe a la esclavitud. Esta tema sigue siendo muy vivo, involucrando a los actores. Esta vez el capitán regresa en un intento de romper las cadenas de las convenciones sociales, que son también bastante vivas. La obra termina en un clímax carvalesco. El diseñador de esta confraternización disfrazada es un niño talentoso de 14 años, recogido en las calles de Paramaribo que ahora vive en la timonera.
El estreno se ha retrasado por medio mes. Los locos se están adaptando con gratitud a la velocidad de la vida sureña. Ya, la nave misma está marcando el paso al cruzar el océano a la velocidad de una bicicleta. Hemos aprovechamos el último interludio de un medio año para llevar a cabo un conjunto serio de pequeñas reparaciones y reemplazos en la sala de máquinas, algunos retrasados por décadas. Hay algunas innovaciones inauditas, como un toldo bien tendido sobre la cubierta principal o el dingui alzado a popa. Con su nuevo facelift, la abuelita centenaria se convierte en una escultura absurda azul jueganda la hermosa a la deriva. A medida que las negociaciones se vuelven indefinidas, también lo hacen los destinos. Que los alisios marquen el rumbo. Pero, ¿dónde está mi tripulación? La gente de Suriname están aterrada del mar. El barco comienza a parecerse, parafraseando a Pirandello, "Un Escenario en Busca de Seis Personajes". Antes de cada uno de los seis espectáculos, otro personaje local ofrece una breve charla sobre la libertad.
LIBERTÉ
L'immense abri en bois qui fait face au navire se transforme progressivement en salle de réception, bureau, atelier de costumes et espace de répétition. Les choses deviennent sérieuses. Nous pourrions confortablement nous y installer si le destin des Fous n'était pas un périple toujours en avant. Il y a même une cuisine panoramique cinq fois plus spacieuse que la nôtre dans le salon des artistes. Ce célèbre salon, qui a abrité d'innombrables cabarets nocturnes, est désormais une pièce de musée assez déserte et ordonnée qui éblouit les curieux qui visitent le navire. La plus grande aventure est de faire la pièce de théâtre qui promet déjà de devenir une grand event par le simple fait qu'il n'y ait pas beaucoup de théâtre dans la ville. Sa seule salle de théâtre s'est vu fermer par un toit instable. Le titre de la pièce est "L'Éloge de la Liberté". Il s'agit d'un marin d'Amsterdam, ambassadeur de l'esprit libre de la ville, qui retourne dans le pays qui a été pendant des siècles la propriété et l'arrière-cour de la même ville. En fait, la pluspart de ses habitants avaient été emmenés comme des esclaves par des navires similaires. L'existence même du pays est due à l'esclavage. Ce thème est encore très vivant, engageant les acteurs. Cette fois, le capitaine revient dans une tentative de briser les chaînes de conventions sociales qui sont également assez vivantes. La pièce se termine par un climax carnavalesque. Le designer de cette fraternisation costumé est un gamin talentueux de 14 ans ramassé sur les rues de Paramaribo qui dort dans la timonerie.
La première est retardée d'un demi-mois. Les fous s'adaptent avec gratitude à la vitesse de la vie du sud. Déjà, le navire lui-même marque le temps en traversant l'océan à la vitesse d'une bicyclette. Nous avons profité de l'intervalle d'une demie année pour mener à bien une série de réparations et de remplacements de petite envergure dans la salle des machines dont certaines retardées des décennies. Nous avons introduit des innovations inédites, comme un parasol tendu sur le pont principal ou l'annexe hissée à la poupe. Après ses retouches bigarrés, la grand-mère centenaire juste est une bizarre sculpture bleue jouant la belle à la dérive. Comme les rendez-vous ont la tendance de devenir indéfinis, il en va de même pour les destinations. Que les alizés mettent le cap! Mais où est mon équipage? Les gens de Suriname sont terrifié par la mer. Le bateau commence à ressembler, paraphrasant Pirandello, à "Une Scène à la Recherche de Six Personnages". Avant chacun des six spectacles, une autre personnalité locale donne une courte conférence sur la liberté.