THE GRAN PREMIÈRE
# 031
Tuesday, October 23, 2018
SMS-pier, Waterkant #5, Paramaribo, Suriname.
55º09´173´´ North, 005º49´520´´ West
Traduccion Castellano & Français abajo & en bas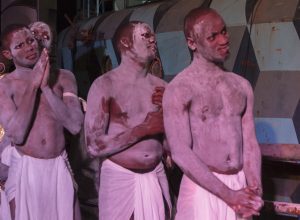 Before each of the shows, another local personality is set on a wooden vegetable box to give a short prologue about freedom. The première was opened by the Chargé d'Affaires of the Dutch Embassy, who sponsored the production. He spoke, referring to the Paramaribo Pride Month, about respect and freedom to live your life. And then follows a rapid succession of happenings. A bunch of black bodies in loincloths. Sailor boys who guard them. Phantoms of slaves appearing in the masts and on the decks. Redemption song. An auction of slaves. A mother throws her baby into the sea. In the wheelhouse, the captain and Frédéric the French sailor set the course in an imaginary voyage. In real life, their shifts never coincide. Ashore, a local community holds a 'Mother Earth' ceremony. The French sailor shoots the cannon with real gunpowder. Captain Carnival arrives. A lot of misunderstanding between the captain and the locals – and between themselves. A ritual purification ceremony of the ship, when Indian dancers enter the ship dressed in carnival clothes and blue clogs. Non, Je Ne Regrètte Rien.
To all appearances, the director Tolin won the gamble by pushing the 'Praise of Freedom' into the top theater talk of town. The show of the year. An enthusiast public of thee hundred, partly parked at the sides, overflowed the grandstand. Benches, hastily put in front, seriously reduced the stage for the actors. There must be a multitude of reasons for this hype. The country is small. The participation of about sixty young local artists, among which indigenous, maroon and hip hop dancers, makes it a super-production that provides a stage experience for many. The old downtown quay side, where for centuries all trade was bargained, provides the perfect historical and symbolic setting for the theme of the play. Anyhow, location theater in Suriname is a novelty and the magnificent backdrop of bridge and Suriname river a rarity. The bizarre visuality of the ship, already a dreamy play in itself, and the reputation of it's unconventional crew is part of the attraction to which we owe much of our prime time TV exposure. The secret of the success maybe lays in the intricate and confused hate-love relation many still strongly suffer with their one-time owners and bosses. The past keeps on haunting the former. The director knows how to captivate his audience – and cast – into a collective catharsis. Happy End. We can always return to the devoted pubic of Paramaribo.
See about Twenty Photos of the Show
News Jeugdjournaal 23 Oct (4 min)
News Jeugdjournaal 16 Oct (4 min)
ATV (4 min)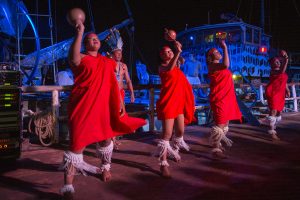 EL GRAN ESTRENO
Antes de cada uno de los espectáculos, otra personaje local se mete sobre una caja de verduras para dar un breve prólogo sobre la libertad. El estreno fue inaugurado por el Chargé d'Affaires de la embajada holandesa, quien patrocinó la producción. Habló, refiriéndose al Mes del Orgullo en Paramaribo, sobre el respeto y la libertad de vivir tu vida. Y luego sigue una rápida sucesión de acontecimientos. Un montón de cuerpos negros en taparrabos. Marineros quien los custodian. Fantasmas de esclavos que aparecen en los mástiles y en las cubiertas. Cancion de redención. Una subasta de esclavos. Una madre arroja a su bebé al mar. En la timonera, el capitán y Frederic, el marino francés, siguen su curso en un viaje imaginario. En la vida real, sus turnos nunca coinciden. En tierra, una comunidad local celebra una ceremonia de 'Madre Tierra'. El marinero francés dispara el cañón con pólvora real. Llega capitán carnaval. Muchos malentendidos entre el capitán y los lugareños, y entre ellos mismos. Habrá una ceremonia ritual de purificación del barco, cuando los bailarines indios entran al barco vestidos con ropas de carnaval y con zuecos azules. Non, Je Ne Regrètte Rien.
En todas las apariencias, el director Tolin ganó la apuesta al empujar el "Elogio de la Libertad" en la máxima charla teatral de la ciudad. El espectáculo del año. Un entusiasta público de trescientos personas, parcialmente aparcado a los lados, se desbordó de la tribuna. Los bancos, puestos apresuradamente al frente, redujeron seriamente el escenario para los actores. Debe haber una multitud de razones para este hype. El país es pequeño. La participación de unos cuarenta jóvenes artistas, entre los cuales bailarines indígenas, marron y hiphop, la convierte en una superproducción que ofrece una experiencia teatral para muchos. El viejo muelle del centro, donde durante siglos pasó todo el comercio, ofrece el escenario histórico y simbólico perfecto para el tema de la obra. De todos modos, el teatro de sitio en Surinam es una novedad y el magnífico telón de fondo del puente y del río Suriname es una rareza. La visualidad rara de la nave, que ya es un ensueño en sí misma, y la reputación de su tripulación poco convencional, es parte de la atracción a la que debemos gran parte de nuestra exposición televisiva en horario estelar. El secreto del éxito tal vez se encuentra en la intrincada y confusa relación entre el odio y el amor que muchos todavía sufren con sus antiguos propietarios y jefes. El pasado sigue atormentando a los primeros. El director sabe cómo cautivar a su público, y darlo una catarsis colectiva. Final Feliz. Siempre podemos volver al púbico devoto de Paramaribo.
See about Twenty Photos of the Show
News Jeugdjournaal 23 Oct (4 min)
News Jeugdjournaal 16 Oct (4 min)
ATV (4 min)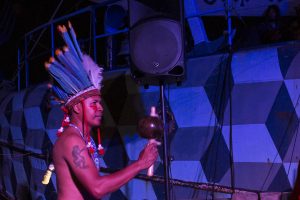 LA GRAN PREMIÈRE
Avant chaque spectacle, une autre personnalité locale est installée sur une boîte à légumes en bois pour donner un court prologue sur la liberté. La première a été ouverte par le chargé d'affaires de l'ambassade des Pays-Bas, qui a parrainé la production. Il a évoqué le mois de la gay pride de Paramaribo au sujet du respect et de la liberté de vivre sa vie. Et puis suit une succession rapide d'événements. Un tas de corps noirs en pagne. Les marins qui les gardent. Fantômes d'esclaves apparaissant dans les mâts et sur les ponts. Chansons de rédemption. Une vente aux enchères d'esclaves. Une mère jette son bébé à la mer. Dans la timonerie, le capitaine et Frédéric le marin français mettent enemble le cap dans un voyage imaginaire. Normalement, leurs quarts de pasarelle ne coïncident jamais. À terre, une communauté locale organise une cérémonie 'Mère Terre'. Le marin français tire le canon avec une vraie poudre à canon. Capitaine Carneval arrive. Beaucoup de malentendus entre le capitaine et les locaux – et entre eux. Une cérémonie de purification rituelle du navire, lorsque des danseurs indiens entrent dans le navire vêtue de vêtements de carnaval et de sabots bleus. Non, Je Ne Regrètte Rien.
À toutes les apparences, le réalisateur Tolin a gagné le pari en faisant passer «l'Éloge de la Liberté» au premier plan théâtral de la ville. Le spectacle de l'année. Un public enthousiaste d'une trois centaine, partiellement garé sur les côtés, a débordé de la tribune. Les bancs, placés à la hâte, réduisirent sérieusement la scène pour les acteurs. Il doit y avoir une multitude de raisons pour ce battage publicitaire. Le pays est petit. La participation d'une quarantaine de jeunes artistes, parmi lesquels des danseurs indigeenes, marrons et hiphop, en fait une superproduction offrant une expérience théâtrale à beaucoup. Le vieux quai du centre-ville, où tous les échanges ont été passés pendant des siècles, constitue le cadre historique et symbolique idéal pour le thème de la pièce. Quoi qu'il en soit, le théâtre d'emplacement au Suriname est une nouveauté et la magnifique toile de fond du pont et du fleuve Suriname est une rareté. Le visuel bizarre du navire, déjà un jeu de rêve en lui-même, et la réputation de son équipage non conventionnel font partie de l'attraction à laquelle nous devons une grande partie de notre temps passé à la télévision aux heures de grande écoute. Le secret de la réussite réside peut-être dans la relation complexe et confuse de haine-amour que beaucoup souffrent encore avec leurs propriétaires et leurs patrons. Le passé hante toujours l'ancien. Le réalisateur sait comment captiver son public – et se lancer – dans une catharsis collective. Happy End. Nous pouvons toujours revenir au pubic dévoué de Paramaribo.

See about Twenty Photos of the Show
News Jeugdjournaal 23 Oct (4 min)
News Jeugdjournaal 16 Oct (4 min)
ATV (4 min)