The painter Jheronimus Bosch made five composition on the theme of "The Ship of Fools"
that became a symbol of debauchery and hell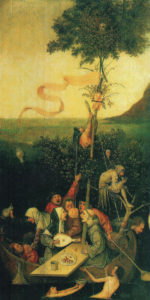 "The Ship of Fools", one of the most famous panels of Jheronimus Bosch ( Louvre Museum, Paris)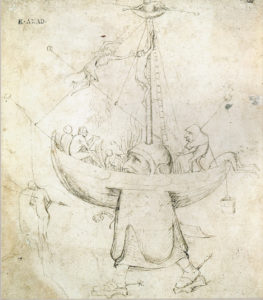 "The Maskarade Man and the Burning Ship of Fools" (Ship in Flames),
Vienna, Akademie der Bildenden Kunsten
"Singers in a Egg", follower of Jheronimus Bosch, 1550-1570, Lille, Palais des Beaux Arts.
The notes in the book show a four-part salacious song, very popular in the middle of the 16-th century.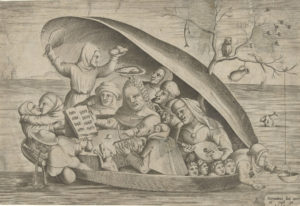 "Merrymakers in a Mussel at Sea"
Pieter van der Heyden (Hieronijmos Bos inventor),
1562, Rotterdam, Museum Boijmans van Beuningen.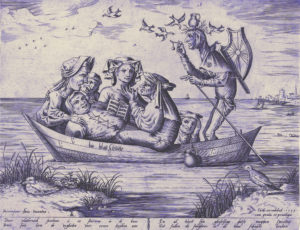 "The Blue Barge" (Die Blau Schuyte), Pieter van der Heyden,
after a lost painting of Jheronimus Bosch, 1559, Rotterdam, Museum Boijmans van Beuningen
Inscription 1559

Daer platbroeck speelman is en stierman in de bane

Daers dien hem de voghelen voer eenen huijben ane

En al tiert sijn gheselschap datse moghten sweeten

Het sullen de sanghers in de blau schuÿte heeten
Omdat Platbroek zowel speelman als stuurman is, zien de vogels hem voor een domoor aan.
En ook al zingt zijn gezelschap uit volle borst,  ze zullen de zangers in de blauwe schuit heten
Since the jester is at the same time musician and captain,
The birds see him as a booby 
And even if the whole company sings lustily,
They'll be called the singers of the blue ship
Inscription 16-th c:
Die in geselschap wilt van licht vrouwen sijn,
Bij sanck en snaeren-spel in luijardije leven:
In overdaet gevult met lacker spijs en wijn,
Compt met dees blauw schuijt licht tot calis aengedreven
Wie in gezelschap wil zijn van vrouwen van lichte zeden
[en] bij zang en snarenspel in luiheid leven
Overdadig gevuld met lekker eten en wijn,
Vaar mee met deze blauwe schuit tot aan Calais
Qui veut être dans la compagnie des femmes de petite vertu
Et qui veut vivre avec le chant et la musique dans la paresse,
Comble de bonne nourriture et du bon vin,
Le voilà parti sur la barge bleu pour Calais.