X-mas in Cape Verde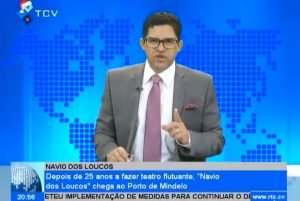 National News Broadcast
A New Tree In The Mast
On January 15, a new tree was attached to the main mast as a homage to the painter Hieronymus Bosch.
The tree has been made by the Cape-Verdian sculptor Hermes dos Reis
and the Amsterdam sculptor Ellen Klijzing, participant of the Venice Biennial 2017.
With thanks to the Mindelo Art Centre "Quintal das Artes" and the Amsterdam NDSM.
A Cabo Verde tinsmith provided the Fools with some disproportionate kitchen utensils.
.


A Cabo Verde DokuDrama
The encounter of the Fools with the island has been intensively recorded by the cineaste Annike Kaljouw.
She's preparing a documentary for several festivals.
Some of the provisional fragments on Facebook has seen more then 13.000 visitors.
 .
The TransAtlantic Fool's Voyage
The Fools crossed the ocean from January 24 till February 9.
Much too easy, a myth debunked, but still, most impressive.
See The Captain's Log #25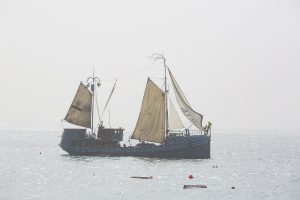 Carnival In French Guyana
February 13, Azart participated with two musicians and eight "Blue Barges"
at the Grand Parade of the Port Saint Laurent Carnival.
The Paramaribo RiverSide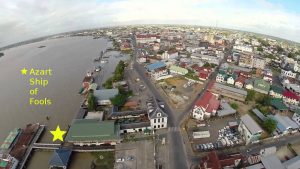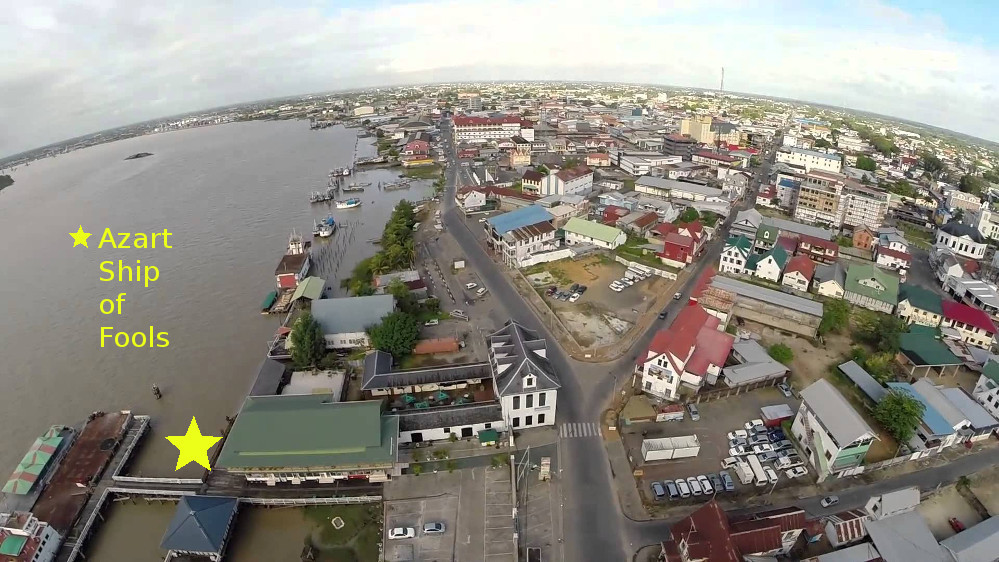 On Thursday March 29 at 11.11 AM Azart arrives at the SMS-steiger (jetty)
in the heart of Paramaribo Waterkant #5
De Waterkant (Riverside) is the central quay of Paramaribo, mentioned in all travel guides and in a great deal of Surinam literature.
It runs along the Surinam River from the Presidential Palace to the Central Market.
On one side are many of the best preserved colonial white-wooden houses with their characteristic verandas that has been listed as a Unesco World Heritage Site.
At the riverside, the waterfront is a lively and popular boulevard that is characterized
by its colorful locals, swinging music & good food and views of the river and the bridge.
Next to the old Waag (Weigh-House), the SMS is the new home of The Ship of Fools.
The Caribbean Tour Oct 2018
Azart presents a FESTIVAL OF FOOLS at the end of September 2018,
with a new show made with local actors, musicians and director.
With this show the ship sets sail in October for a Caribbean theater tour.
More :