X-mas in Cape Verde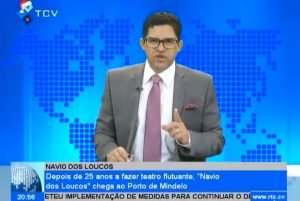 National News Broadcast
A New Tree In The Mast
On January 15, a new tree was attached to the main mast as a homage to the painter Hieronymus Bosch.
The tree has been made by the Cape-Verdian sculptor Hermes dos Reis
and the Amsterdam sculptor Ellen Klijzing, participant of the Venice Biennial 2017.
With thanks to the Mindelo Art Centre "Quintal das Artes" and the Amsterdam NDSM.
A Cabo Verde tinsmith provided the Fools with some disproportionate kitchen utensils.
.


A Cabo Verde DokuDrama
The encounter of the Fools with the island has been intensively recorded by the cineaste Annike Kaljouw.
She's preparing a documentary for several festivals.
Some of the provisional fragments on Facebook has seen more then 13.000 visitors.
 .
The TransAtlantic Fool's Voyage
The Fools crossed the ocean from January 24 till February 9.
Much too easy, a myth debunked, but still, most impressive.
See The Captain's Log #25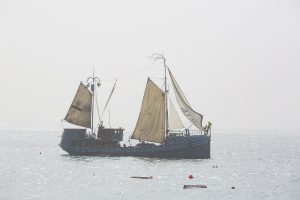 Carnival In French Guyana
February 13, Azart participated with two musicians and eight "Blue Barges"
at the Grand Parade of the Port Saint Laurent Carnival.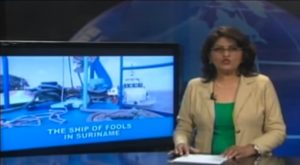 On Thursday March 29 at 11.11 AM Azart arrived at the SMS-steiger (jetty)
in the heart of Paramaribo Waterkant #5
in search for a collaboration with local theatre makers


"Praise of Freedom" – Impressive from the Beginning till the End.
"De Ware Tijd", 22 Oct 2018

a new spectacle, made by Tolin Alexander and local actors & musicians
0n the SMS-pier, Waterkant in Paramaribo on Oct, 19-21-26-27-28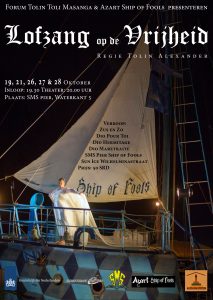 Synopsis :
Er ligt een karakteristiek, honderdjarig schip aan de oude pier van Paramaribo. Het schip is uitgerust in een eigentijdse, kunstzinnige versie van de kaapvaarder, van de moderne vrijbuiter wiens scheepslading bestaat uit ervaringen en verhalen, beelden en dromen. Schip en kapitein zijn afkomstig uit Amsterdam, dezelfde stad die Suriname eeuwenlang als achtertuintje en wingewest exploiteerde. Hij keert nu terug met de oproep om vrij te zijn, om de ketenen te verbreken van sociale conventies en schijnheiligheid, van ideologische en politieke manipulatie. Aan wal treft hij een lokale gemeenschap aan die niet op hem wacht. De dorpsoudste Tuwaka is een wijze vrouw en behoorlijk sceptisch en vijandig. De dorpspriester Ankwa ziet de geesten van het verleden wanneer slaven als schimmen aan dek verschijnen. De tussenpersoon Annikei is de dorpspoliticus, de opportunist die tussen de partijen bemiddelt. De misverstanden tussen kapitein en de dorpelingen onderling leiden tot tragikomische taferelen. De dorpspriester neemt het initiatief tot een reinigingsceremonie van het schip die leidt tot een vrolijke karnavaleske ontknoping in dans en muziek.
"The Ship of Fools Fulfills her Promise with a Suriname Production"
"De Ware Tijd", 18 Sept 2018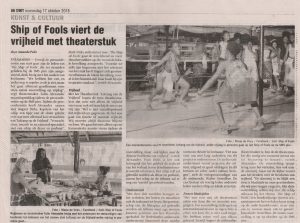 "Ship of Fools celebrates Freedom with a Theater Play"
"De Ware Tijd", 17 Oct 2018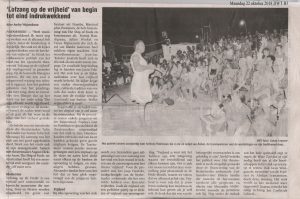 "Praise of Freedom" – Impressive from the Beginning till the End
"De Ware Tijd", 22 Oct 2018