Náufragos en el Parque de Atracciones
Dedicada a la memoria del autor Jorge Diaz, fallecido el pasado 12 de Marzo.
La pieza inscrita en el teatro del absurdo latinoamericano esta dirigida por Victor Ormázabal, el diseño pertenece a Robbie Baars y actúan Bea Insa y Carlos Concha. "Náufragos en El Parque de Atracciones", conocida también como "El Cepillo de Dientes", es una de las míticas obras del autor escrita en los años 60 en clave de comedia negra; nos relata la vida de una joven pareja, envuelta en la locura y el sinsentido del dia a dia, que enfrenta su crisis y pone al descubierto el absurdo de los valores de la pareja de nuestro tiempo. El camino a lo mas intimo los conduce en un delirante e hilarante viaje que los confronta reflejando la inexistente comunicación entre ellos.
Ella: Bea Insa
El: Carlos Concha
Direccion: Victor Ormázabal
Vestuario y escenografía: Robbie Baars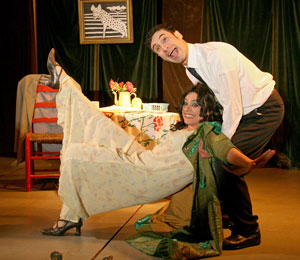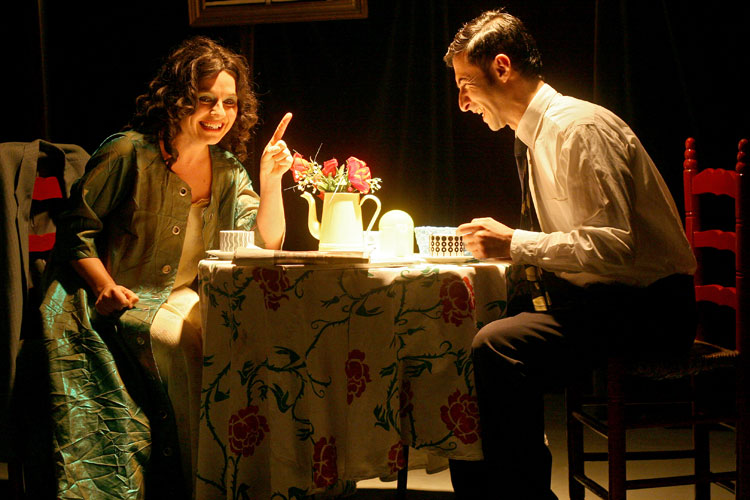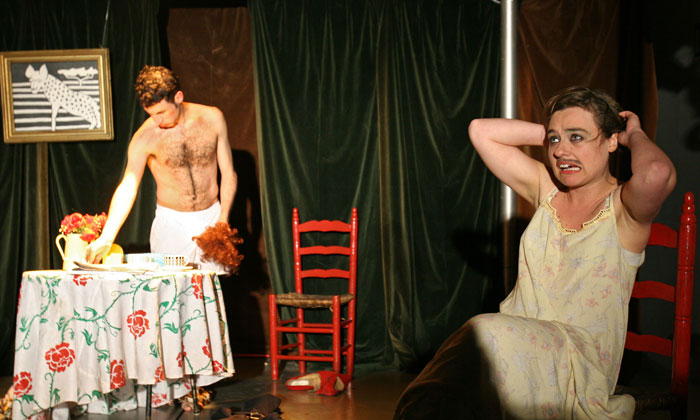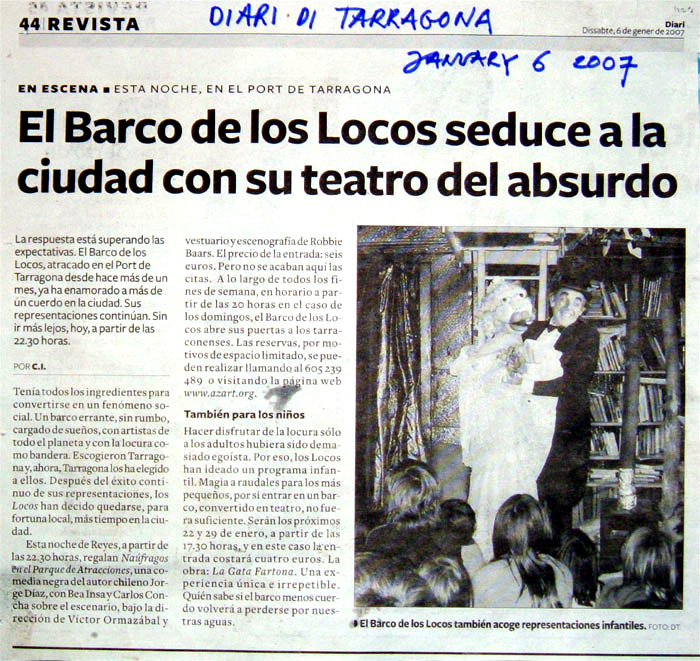 THE SHIP OF FOOLS SEDUCES THE TOWN WITH HER ABSURD THEATRE
The demand beats all expectations. It had all the ingredients to become a social phenomena. A ship adrift, without course, charged with dreams, with artists from all over the planet and under the flag of Folly. They chose Tarragona and now, Tarragona chose them! After the continuous success of their shows, the fools have decided to stay longer, to the luck of the town.
PLAY LIST 2007
Tarragona      Jan           6, 7, 12, 13, 14, 19, 20, 26, 27
                      Febr        3, 9, 10, 16, 17, 23, 24
                      March      2, 3, 9, 10, 16, 17,
Barcelona      March     20, 21 (In the ship Naumon)
                     March      24 (Centro Civico Torrellobeta)
Palamós         April       7, 14, 20, 21, 27, 28
                     May         4, 5
Mataró          May         22
Barcelona     June        4, 5 (Taller de Titteres, Carrer Guardia, 7)