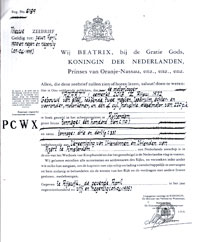 WE BEATRIX,
by the grace of God,
QUEEN OF THE NETHERLANDS,
Princess of Oranje-Nassau,ands forth, ands forth, ands forth
Everybody who sees or hears reading these writings,
Salute! is to know:
 is sufficiently apparent to Us that the motor logger Azart, marked 2013 Z Rijswijk 1972, Built of steel, with two masts, a hull and motor-room, with a 4 cyl. Industrie diesel motor of 220 Horsepower, noted in the ships register of Rotterdam, gross brut tonnage 110 tons and net tonnage 33 tons, belonging to the Association of Girlfriends And Friends Of Azart, is a Dutch ship according to Dutch Law and is entitled to fly the flag of the Netherlands. We order therefore all authorities and servants of the State and request all others whom this may concern to receive the captain with his ship and cargo kindly and to treat him according the laws of the State and the treaties signed with other States.
Given in Rijswijk, The seventh of April nineteen hundred fifty-five.