THINK NOT WE FOOLS ARE ALL ALONE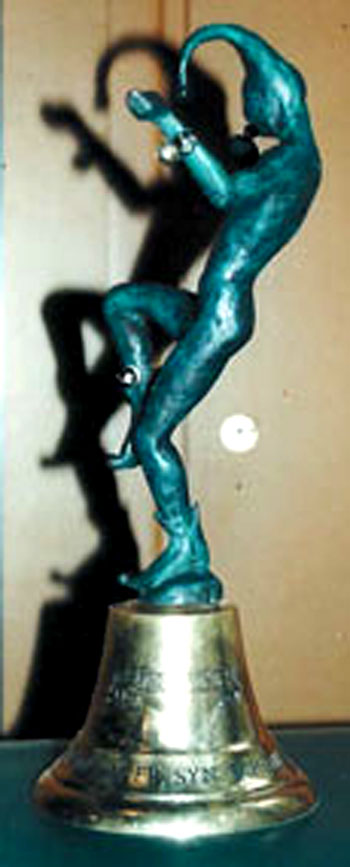 In 1994 Azart presented the cities of Basel and Strasbourg a monumental gift, a bronze bell to commemorate 500 years of playfulness in western thinking. These bells, designed by Erik Don, have a bronze dancing jester to serve as it's handle. Its function is to silence noisy deputies from both parliaments. The inscriptions are taken from Sebastian Brant's book "Das Narrenschiff", written in 1494 in Basel. The writer lived in Strasbourg as well.
Made by
Eric Don
Inscription Kanton Basel:
Und meynt wann er seyn schellen schütt
Das jinn der dott dar'umb
He Thinks That If His Dunce Bells Ring
Death Ne'er Will Do Him Anything
Glaub nicht wir seien die narrn allein
Wir haben brúder gross und klein
Think Not We Fools Are All Alone
For Sisters Large And Small We Own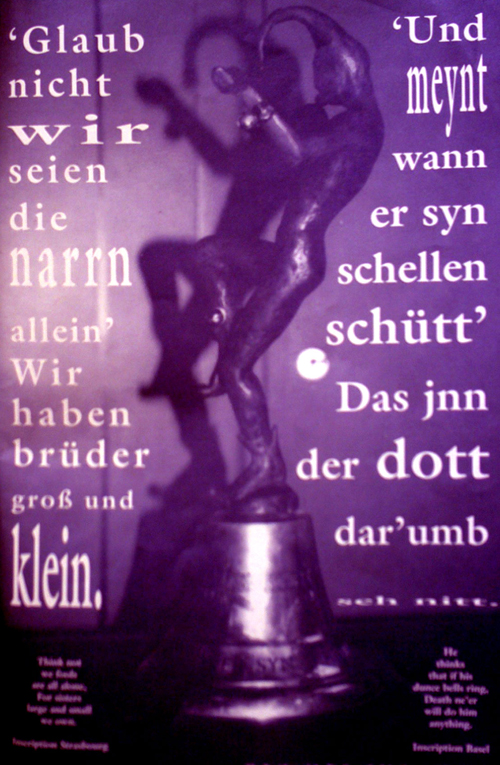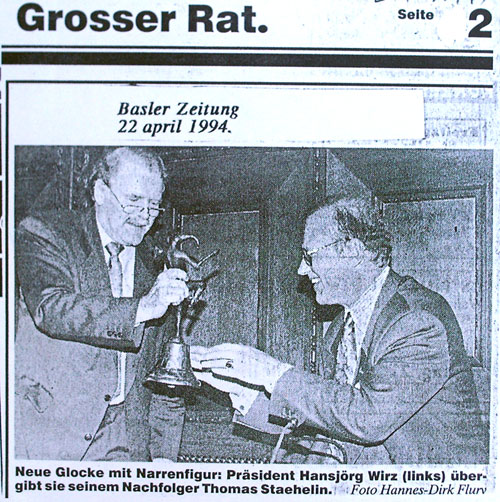 The President of the Big Council of Kanton Basel-Stadt, Hansjörg Wirz, was extremely pleased
and paid back the price of the bell which now proudly adorns the Presidents table.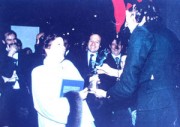 The Lady Mayor of Strassbourg, Catherine Trautmann, showed very pleased on the picture but they didn't use the bell.
For having an inscription in German?  Pretenting it being too heavy?

As a revenge the Fools confiscated the parliament's bell – that still convokes the Fools for dinner