¡ A BORDO !
&
Join the Ship of Fools
to the Other Side of the World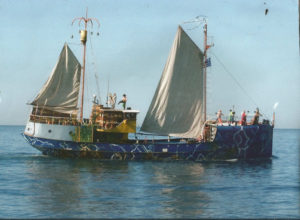 Azart – The Ship of Fools is an independent theatre group that for 28 years presented her comic theatre in 20 countries.
In August 2017 the ship sets sail on a one way trip to the Southern Hemisphere
along a dozen cities in West Africa, South America, South Africa, India and beyond.
Their journey is a Festive Pageant around the Globe, in Praise of Folly!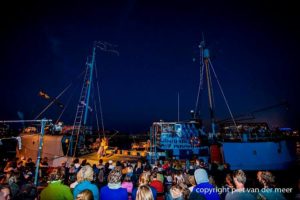 The crew presents in every harbour a Festival of Fools as a community project and international artist residence.
We believe humor connects and transcends our differences.
We celebrate life and the joy of living through theatre, art and poetry.

SUPPORT NOW
BUY A MILE, BUY A SMILE, BUY A SeaMILE
AMSTERDAM RECIFE >> 8611 SEA MILES
The ship sails 7.2 sea miles an hour = 2.44 € = each Sea Mile
Si no utiliza la banca por Internet, consulte: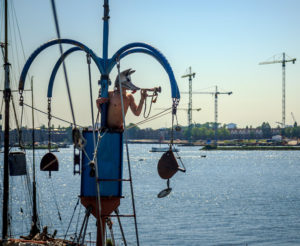 Join the Fools, by taking part as as artist and fellow traveller
Join the Fools by sharing our virtual logbook about the adventures
Join the Fools by buying Seamiles
SUPPORT NOW
BUY A MILE, BUY A SMILE, BUY A SeaMILE
If you do not use internet banking, see: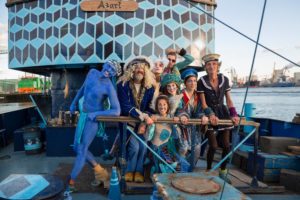 First destination
Amsterdam – Recife = 9000 Sea Miles
Accra, Ghana. Winter 2017
Paramaribo, Suriname. Spring 2018
Recife, Brazil Summer 2018
SUPPORT NOW
BUY A MILE, BUY A SMILE, BUY A SeaMILE
 AMSTERDAM RECIFE >> 8611 SEA MILES
The ship sails 7.2 sea miles an hour = 2.44 € = each Sea Mile