THE QUEST


A One-Way Voyage to Lucidity
Vilagarcía, Spain. Voz de Galicia, 27-08-2012
Azart – the Ship of Fools follows as a contemporary East Indiaman the ancient trade routes to the Orient,
this time 'sharing and caring instead of dealing and stealing'.
With their shows and workshops the crew investigates the universality of comic theatre
and the salutary effects of folly.
Their study includes the nature of celebration, feasting and extravagance in different cultures.

Cours to Utopia
Barcelona, Spain. El País, 26-03-2004
THE ELEVENTH EXPEDITION TO THE SOUTH LAND
Holland has mounted ten expeditions to find the mythical continent "South Land",
supposedly an 'earthly paradise' full of gold and riches. In vain!
Now, the Ship of Fools Azart sails as a contemporary East Indiaman for the eleventh expedition.
The South Land proved to be Australia and their cargo the immaterial wealth ​​of an artistic and cultural exchange between artists and audiences of different cultures. In many a city the crew builds a temporary festive fortress on the quay to celebrate a Festival of Fools.


The Pilgrims of Art
Vigo, Spain. Faro de Vigo, 20-07-1999

DESTINATION AUSTRALIA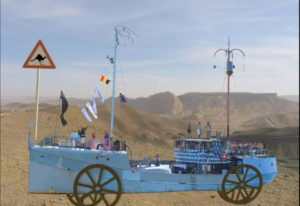 In Australia the centennial ship crosses the desert on wheels
as a gigantic mobile sculpture dedicated to folly.
This desert trip is the jubilant apotheosis of the history of the "Ship of Fools"
as the emblem of the thousand-year European carnival culture.